By Bryan Lim on Oct 22, 2019 10:56:30 AM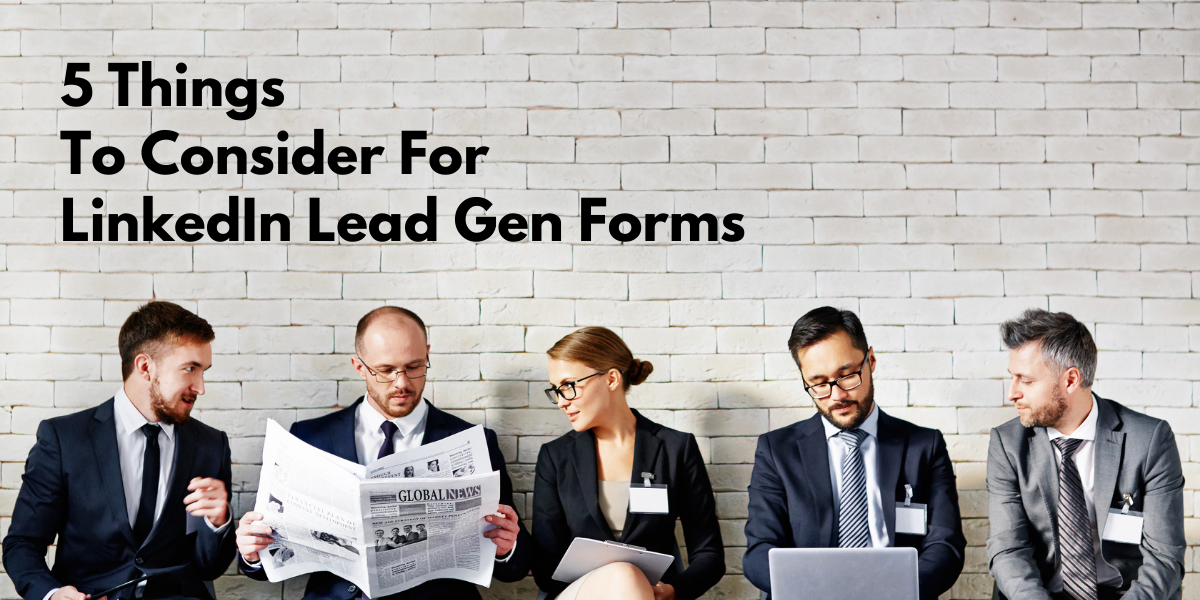 A common goal amongst most businesses these days is lead generation. Without a steady stream of potential customers, the business will fail.
That's why ad platforms continuously seek ways to simplify how leads are being generated. Amongst those platforms, we have Google, Facebook, LinkedIn, Twitter and many more.
In this article, we shall discuss LinkedIn and in particular, Lead Gen Forms. It offers businesses a quick and scalable way to generate leads. For users, it makes the process of claiming an offer or sign-up hassle-free.
But this beckons the question: is this format effective in the age of hyper-personalisation?
LinkedIn Lead Gen Forms
LinkedIn Lead Gen Forms allow advertisers to create easy-to-fill lead capturing forms for specific LinkedIn ad formats. It makes completing a form easy for prospects, and lead generation scalable for businesses.
For ads that utilise a lead gen form, the form will appear, and it pre-populates with information which users have already shared with LinkedIn. As long as the form requests information which they have provided to LinkedIn, users would not have to type it in manually. Once, the user hits the submit button, the lead's data will be passed on to you. This move by LinkedIn was meant to improve user experience and in turn, conversion rates fo advertisers (since 80% of engagement with sponsored content happens on mobile phones).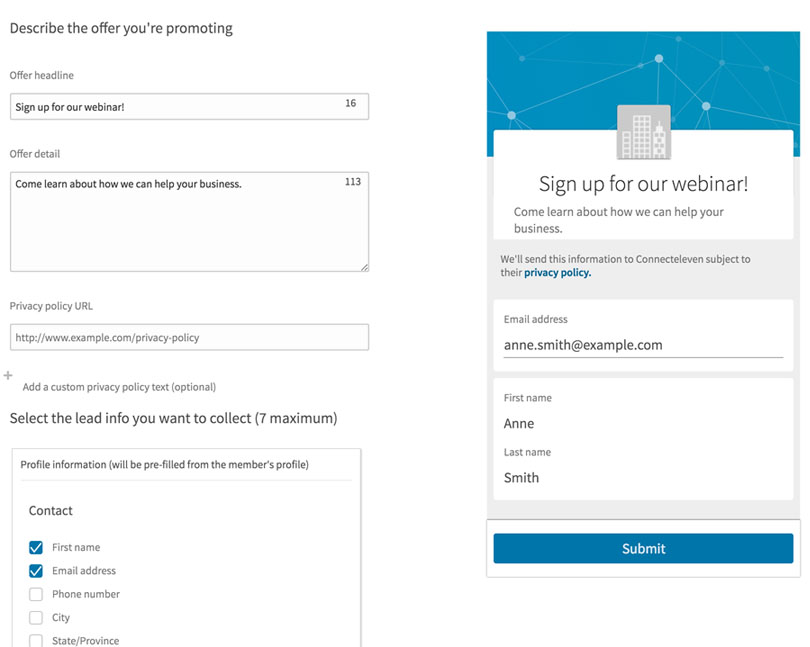 (Source: LinkedIn Marketing Solutions)
Do LinkedIn Lead Gen Forms work?
Well, the answer is "It depends."
According to LinkedIn:
"With Lead Gen Forms, advertisers can collect leads at conversion rates that typically outperform the LinkedIn benchmark." They added: "Our internal data shows that LinkedIn's Lead Gen Form campaigns increase conversions by 2-3x when compared to standard Sponsored Content campaigns."
It's easy to see how pre-populating the forms could be helpful (saving users the hassle of typing information onto the form). Also, LinkedIn is a business social network. You're more likely to get valuable lead data from people on this platform than on a more personal social network like Facebook or Twitter. Users are also more likely to input their actual information vs other social platforms.
Lead Gen Forms also have other benefits such as:
Users do not need to wait around to for your web page to load; you have obtained your lead information.

Capitalise on LinkedIn's brand equity. Sometimes, a simple enough reason to deter someone from submitting their contact information could be just because of the general lack of awareness of your brand. This will be less likely to happen on LinkedIn.
However, lead gen forms also have its disadvantages. And here are five considerations to look out for before using them in your campaigns.
Form fields are limited in what they can request
While Lead Gen Forms offer convenience when it comes to capturing information about your leads, most of the options user choose from comes from a drop-down. Also, only three of the maximum fields can be "custom" fields, through which you can request information not known through LinkedIn.
Limited fields and characters
There are limits to the number of fields, character limits and policies you would have to adhere to. Field limits can be a major hindrance. This is considering that B2B businesses tend to require longer forms than B2C businesses to qualify the leads. Therefore, Lead Gen Forms like these are likely only more valuable for Top of funnel offers which don't require much information from the user.
Missed opportunities to build your brand equity
Long-term brand equity is built through continuous exposure to your brand; a trade-off with LinkedIn Lead Gen Ads. Their templates can be customisable, but not to the point where you can inject the details of your own branding into each form. When users click, they might not end up visiting your web page to claim your offer. This is another lack of exposure to your brand.
Conversions typically happen on your website
The thing about conversions that happen outside your website: traffic might never reach your site. With Lead Gen Forms, you may have got the crucial email address, but you may miss out on traffic. Your website not only serves as a channel for conversions but also important analytics and other branding opportunities. In essence, your website is your hub of operations.
You miss out on opportunities to refer users to other related offers, drive them to take the desired action and even, future retargeting campaigns. When you collect data via lead gen ads, personalisation is sacrificed. Instead, offers that are claimed on a post-click landing page encourages nurturing of leads with tracking of behaviour and activity.
Data collected may be wrong
While data collected on LinkedIn may be more accurate than other social networks, it doesn't mean it's information is entirely correct. Most people do not update their LinkedIn profile regularly. A user who is interested in your offer may be quick to "Submit" regardless of whether the pre-population information is up to date.
Often, the email address provided for a LinkedIn account is a personal email and not a work email. Hence, while pre-populated forms offer a quick and straightforward way for a user to submit, the potential for information to be inaccurate is also true. Users do not necessarily need to confirm that whatever information they are providing is correct. All they want is what you're offering them.
In A Nutshell
LinkedIn has come up with this feature not because their promoted content ads are failing. The fundamental reason is that most brands are failing to create an intuitive experience once users land on their site.
LinkedIn Lead Gen Forms are just a short-term fix for a much bigger problem: the pre-click experience is often prioritised over the post-click experience of users. Marketers tend to consider targeting, platform type, and ad creative as more valuable and spend more time and budget perfecting them (they are not wrong though).
Post-click experiences such as forms, offers, user testing and page load speed are mostly considered afterthoughts. However, if a post-click landing page experience is well-designed, it can do precisely what LinkedIn Lead Gen Forms can, and more.
Advertisers should, therefore, be more focused on creating a balanced, seamless, highly personalised campaign from the first impression to the last click. Ultimately, your website offers a lot more.