By Bryan Lim on Apr 29, 2020 6:45:00 PM
According to a 2017 Facebook ads benchmark study conducted by Wordstream, the average click-through rate for Facebook ads across all industries is 0.90%. The reason for the low CTR is likely that your target audience are just not seeing the right ads at the right time.
When defining your target audience, have you considered some of the common interests your customers share? Take a health supplement store for example, your customers may fall under the category of females who appreciate health and wellness, but those who also like yoga.
One approach to understanding common interest among your customers is to dive into Facebook's Lookalike Audience tool. It gives you an insight into your current customers, the demographics, their interests, the kind of pages or post they follow.
With this tool, you're specifically targeting people who are more likely to be interested in your product or service, thereby, increasing your ROI and your conversion rate. Also, you spend less money advertising to people who are less likely to convert into a customer for your business.
Build An Audience
What is a Lookalike Audience on Facebook?
According to Facebook, your "Lookalike Audience size ranges from 1% to 10% of the combined population of your selected locations. A 1% lookalike consist of the people who are most similar to your lookalike source. Increasing the percentage creates a bigger, broader audience."
This allows you (the advertiser) the flexibility to target broader audiences or a very specific audience that could be more likely to convert. There are a few ways you can look to build your Facebook Lookalike Audience.
First, the easiest way is look at people your page fans, people who currently like and follow your page on Facebook. They are your source audience. With that, you may target Lookalike Audience who share similar interest. Other Facebook Sources include those who have viewed your videos on Facebook, interacted with your Lead form or Instant Experience. You may even target people who have viewed your Instagram Business profile.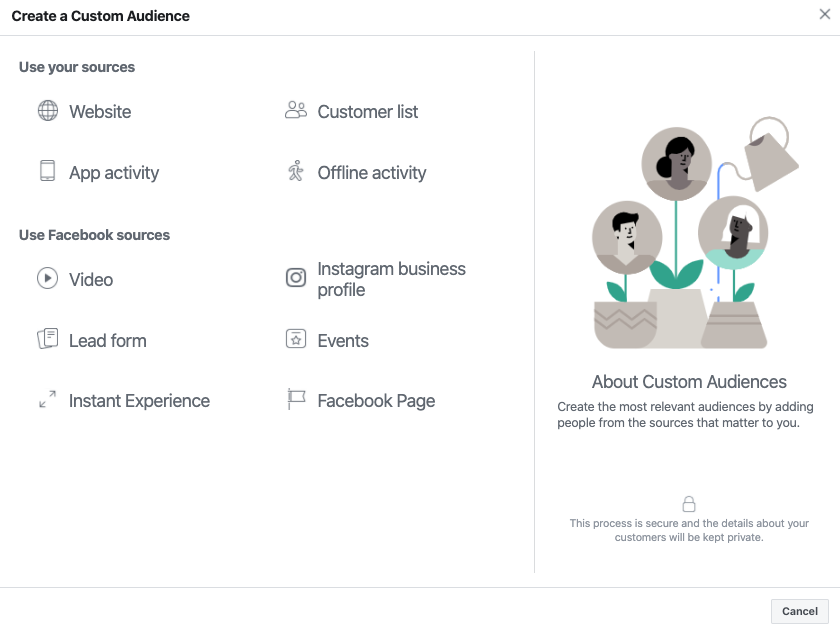 You may also create a source for your lookalike audience using custom audiences. You can easily import a custom audience by importing a list of your customers or subscribers and even target people who have been to your website. For the last option, however, is possible if you have installed a Facebook Pixel on your website. This allows you to optimise and create audiences specifically for your campaign, such as those who only visited a particular page. From this custom audience, you further create a lookalike audience to reach out to more traffic.
Figure out who to target exactly
The only probable downside to Facebook advertising is that… everyone is already doing it. With this competition for audience, this means that there is constantly so much more content for people to scroll through. So you need to find a way to make your ads stand out more to the specific audience who are more likely to be interested in your business. Creating a lookalike audience is a good way and affordable way to reach out to the right target audience for your business.
A smaller lookalike audience (1%) is more likely to generate the best matches for you. Meanwhile a larger audience allows you to extend your reach to even more people. Studies have shown that having a smaller audience of 1-2% is likely the best way to get started. Also, using an audience size of up to 10% can become too costly. A 10% lookalike audience can cost up to 70% more than a 1% lookalike audience.
Always keep your goals in mind when adopting the lookalike audience tool. What are you trying to achieve by doing so? Are you trying to increase your social media fan base, driving traffic or to increase sales? If increasing sales is your objective, then you should look for people who are very similar to your current audience.
Monitor and track performance
If your Facebook ads isn't as effective as it used to be, a Lookalike Audience may be just what you need. However, make sure to give your campaigns for your Lookalike audience some time. You may not necessarily get immediate results but you also don't want to end your ads before it has a chance to be seen by your new audience. As with any Facebook ads, make sure to monitor your ad performance to make any necessary adjustments.
Keep in mind that the more times a consumer has or interacted with your brand, the more likely they are to convert. This conversion can be in terms of sales or even signing up for your monthly newsletter. It's important for brands to stay top of mind. The potential for using Facebook Lookalike Audience is huge, only if you take the time and effort to do so. It will be rewarding. However, while we are looking at reaching out to new prospects, always remember that it is always easier of selling to an existing customer. Ensure that your current customers are engaged and happy.