By Neha Sodhi on Apr 15, 2022 9:00:00 AM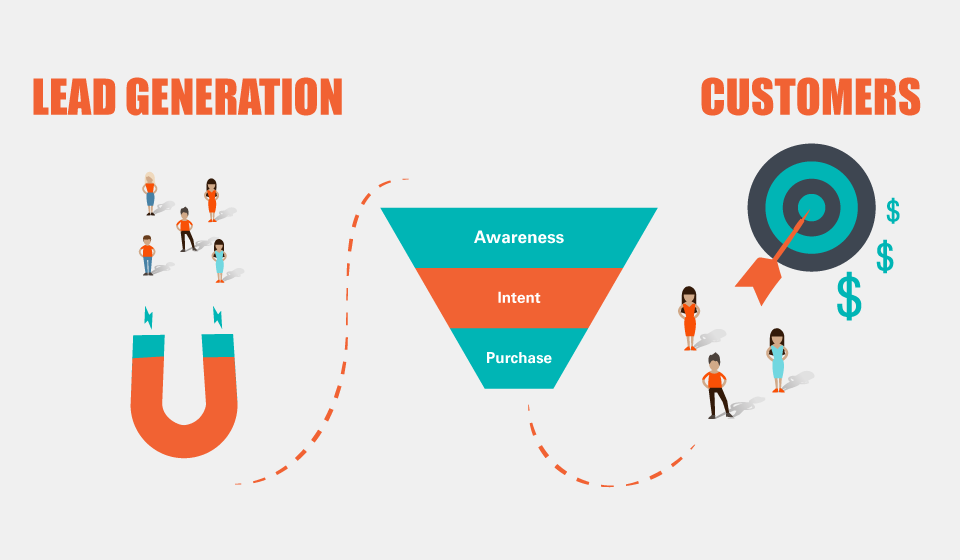 Many digital marketers are excited to talk about B2BLead Generation. However, few of them know of the strategies for B2B Lead Generation. However, fear not. You can use these 5 effective strategies to improve the way you & your company generate leads.
The ongoing evolution of consumer behaviour is undoubtedly propelled by a host of emerging technologies and an influx of new insights. Therefore, B2B marketers have to re-evaluate their lead generation strategies in such an environment.

The explosion of content addressing consumer concerns at every step of the buyer's journey has developed increasingly educated consumers. Additionally, improved technology raised expectations for customer service experience. In fact, a study by customer intelligence firm, Walker Information, predicted that customer experience will likely surpass price and product as key brand differentiators by 2020.

Therefore, now is the time to reconsider the lead generation strategies that are worth keeping and those that are outdated. Some strategies (eg. content marketing and SEO) continue to be hugely profitable for your business in 2018 & beyond. Others are becoming more prominent due to shifts in your audience's online and offline engagements.

The big secret to effective lead generation in 2018 is adopting newer, relevant, effective trends, and optimizing existing marketing strategies. Hence, it's no wonder that the top online strategies highly recommended by surveys are:

Email marketing
Search marketing
Social media marketing
Content marketing

1. Social Media Marketing
Many know that social media is a popular sales channel for B2C lead generation. Especially, using platforms such as Facebook, Twitter, Whatsapp & Instagram. However, few know it can also be effective for B2B lead generation. A targeted strategy—especially on professional networks like LinkedIn—can attract and convert new leads. LinkedIn is gaining in popularity as a B2B lead generation network. In fact, an estimated 80% of B2B leads come from LinkedIn—a tell-tale sign of social media marketing's importance.

However, remember that every other marketer is reaching out on social media channels, merely connecting to potential customers is inadequate as competition is intense. In order to emphasize the "humanness" of your brand, ensure that you send personalized connection requests and messages to reduce the chances of being mistaken as spam or irrelevant marketing.

-Fill up the business page. Ensure that your company profile is completed, so potential customers can quickly understand your brand and its unique value.
-Boost your digital footprint by promoting your content on Facebook, Twitter, LinkedIn, and any other social platform used by your target market.
-Post-awareness-stage content. Brands frequently post in-depth content to the relevant social media platforms such as Facebook, and LinkedIn. But it is better to include a balance of entry-level content as well.
2. Embracing Automation
Marketing automation tools came about as a result of combining email marketing tools and CRM. The marketing automation software syncs your CRM to automatically send highly targeted and personalized marketing emails to leads. Thus enabling you to put relevant and timely content in front of the right prospects.

Consumers are increasingly expecting standardized brand experiences across personalized channels of communication as well as individual attention. A smart engagement platform is the only way to deliver that kind of communication at scale, especially as your company continues to grow. One example is the implementation of chatbots. Chatbots are simply artificially intelligent messaging-based bots that can autonomously engage your website visitors and automate business transactions.

By adopting chatbots, you are essentially telling your prospects that you want them to have a seamless interaction. On top of that, integrating automation into your lead generation strategy significantly improves process efficiency and optimization. It also minimizes operational costs and human customer support discrepancies.

These are the few ways that one can capitalise on marketing automation.
3. Content Marketing
A Hubspot survey showed that companies that publish 16 or more blog posts per month generate 4.5 times more leads than those who publish only 0-4 posts per month.

In addition, the study revealed that 47% of B2B buyers depend on content for research and making purchasing decisions. Moreover, B2B buyers consume at least three to five pieces of related content before contacting a salesperson. Leverage this information by frequently producing relevant, targeted content that caters to your audience's information demands.

Publishing quality blog posts often reveals to your target audience your commitment to go to great lengths to provide them with valuable content that addresses their concerns. Therefore, gaining consumer trust and loyalty to your brand is crucial.

Going into the future, it is simply not enough to just rely on quality content to captivate potential customers. Surely, the internet is flooded with content marketing. However, what it lacks is outstanding content. There is no better time than now to up your content marketing game.

Kick it up a notch to make sure you're standing out:

Use videos. The video presents a golden opportunity to reach your target audience. More than 75% of Fortune 500 executives view video content regularly and among them, approximately 2/3 will visit the vendor's website. Hence, it's safe to say that video is a highly effective way to attract leads. Additionally, videos on a landing page can also increase conversions by 80% or more.

Make it fast and mobile-friendly. With the ever-increasing growth of mobile/smartphones users, attention spans consequently continue to shrink. Hence you should optimise your website for smartphones. As it really helps with your B2B marketing goals & helps your customers make efficient business decisions.

Marry it to SEO. Google is the average person's portal to the internet. If they can't find your content, it might as well not be there.

A/B test everything. A/B test your paid campaigns to ensure that your strategies work. Constantly test new strategies and ideas to figure out which you need to stop, and which you need to scale. Don't guess what your audience wants, test it. From subject lines to video ads to content length, test and tweak. The wonders of A/B testing is its ability to quantify the value of each strategic tweak to your lead generation campaign, thus enabling you to know how each experiment performs.

Make it relevant. Don't ruin your content strategy with irrelevant content. If your audience is looking for something, give them what they want.
4. Search Marketing
Organic search marketing is arguably one of the most valuable long-term strategies for generating B2B leads. Getting to #1 in Google is a lot harder today than it was five years ago, and it barely could be summarised in merely a few sentences.
Currently, SEO is increasingly moving towards a largely a bi-product method of doing things well in other areas e.g. design, conversion rate optimisation, content marketing, and social.
5. Email Marketing
Email marketing is an online marketing channel that is proven relevant throughout the years. Despite email being around for nearly 25 years, it still retains the top spot on many B2B marketer's lists of B2B lead generation strategies.

One of the biggest trends in email marketing at the moment, that has generated great results for many B2B businesses, is marketing automation.

In short, marketing automation tools are effectively hybrid email marketing tools that connect with your CRM to enable you to automatically send highly targeted emails to leads that are personalised specifically to them.

A particular company increased their revenue by 832% (going from $80,000 in debt to $2 million in revenue) in just three years through the use of email marketing. Apart from automation, another trend is the ability to capture more data on users and use behavioural-triggers to target potential consumers in the inbox.

Summary
Lead generation strategies that worked in previous years might no longer deliver optimal results in the near future due to rapid developments in technology such as AI and automation, changes to buying behaviour and social media/content marketing trends.

This blog post compels you to take the opportunity to fine-tune your strategies as soon as possible. The tactics listed above factors in the volatile market and have worked for several companies. However, it is by no means a cure for all, as the effectiveness of any given strategy differs according to industries and brands.

Nevertheless, emerging trends can provide valuable insights. Allow these observations to recalibrate your strategies to be change-responsive.

For more interesting and informative content, subscribe to our blog!