By Migelie Luna on Jul 18, 2022 1:36:10 PM
You enjoy data. Nothing is more satisfying for you and your customer than a chart that illustrates how well a campaign is doing.
However, your team's time is being consumed by gathering all of that data each month, organizing it, making charts, and putting out reports.
Each month, agency employees typically spend four to five hours per client reporting on digital. Let's imagine you have 20 clients under management. Your effective hourly fee is $75, and it takes four hours to produce one report. If you automated this process, you'd save close to $5,000 every month.
Which is worse? These reports are crucial to the customer, but she seldom looks at them for more than a few minutes because she wants assurance that things are moving in the correct direction. If they're not, you'll need to talk to them on the phone or in person about it. She won't be able to understand the context of the issue or your plan of action from a report.
Consider using one of the marketing reporting tools listed below and looking into additional apps for agency services if you need to create reports fast and efficiently for a variety of clients with various KPIs. By doing this, you may spend less time collecting data and producing reports and more time on what really matters: developing effective campaigns.
The Importance of Client Reporting
Making your job simpler is the main goal of client reporting tools. Working in a field that relies on data can be time-consuming for your team because it takes time to gather, organize, and write reports using data. You'll need client reporting tools in order to create a chart that displays how the client's campaign has changed over the course of a certain period of time. Thanks to the reports, you may keep more customers and improve the transparency of your workflow.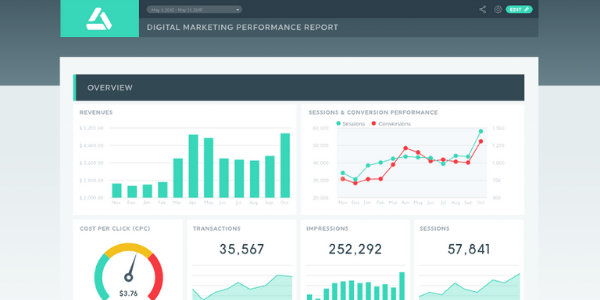 Source: Dashthis
DashThis offers a bespoke URL and a fully white-labeled account for agencies that want the client experience to be associated with their brand. Numerous systems, such as Instagram, Ahrefs, Comscore, and Perfect Audience, are integrated with the application.
According to a survey conducted by DashThis, there are three main report kinds that agencies and their clients like. They developed templates that are easy to set up and ideal for tracking success each month. These templates represent the findings.
Use DashThis to update clients or your team on performance throughout the month since it is primarily a dashboard tool rather than a reporting tool. However, from the selected dashboard, you can send notifications, a report summary, or a PDF.
Source: Megalytic
You can quickly upload your data into Megalytic using the templates it offers from sources like Google Analytics, AdWords, Facebook, a CSV file, and others.
The tool provides a library of widgets that you can quickly add to your reports for more detailed information, such as e-commerce sales by location, AdWords conversions, social referrals, etc. Additionally, you may program reports to be automatically sent to a list of people, and then check to see if they arrived in their inboxes.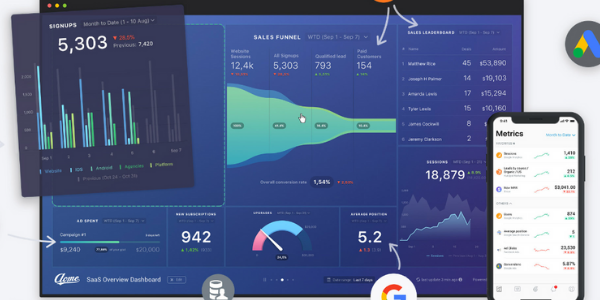 Source: Databox
By combining information from numerous well-known marketing software and platforms, such as HubSpot Marketing, HubSpot CRM, Google Analytics, Adwords, Facebook advertisements, Twitter, Linkedin Company Pages, and Instagram, Databox enables agencies to automate the client reporting process. Databox becomes the only location where your agency's staff can set objectives, track progress, determine ROI, and get alerts when things aren't going as planned after integrating your client's services.
In addition to pre-configured reports (like the one below, which incorporates information from HubSpot CRM and HubSpot marketing), Databox also gives you the ability to create your own unique reports using their report builder. You may access your data from a variety of platforms, including your desktop computer, TV, mobile phone, and Slack.
Source: RavenTools
For agencies and their clients that require a few more reporting options, RavenTools is helpful. There is a research center for examining rival or target websites, a scheduling tool for social media posts, a campaign tracker for link development, and an SEO auditor.
You can also compare backlinks, domain authority, load time, page speed, and other metrics to compare your client's website to that of their rivals using this helpful function. Drag-and-drop functionality in the report feature makes it simple to include the findings of tests and research conducted using RavenTools' extra capabilities in your reporting documents.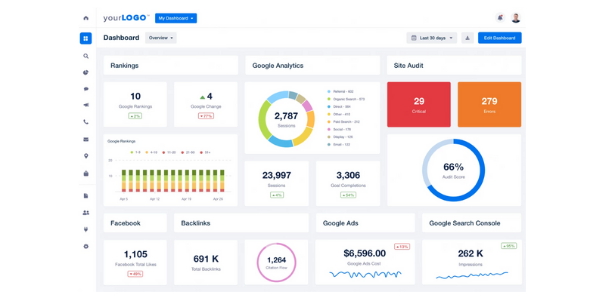 Source: AgencyAnalytics
Among client reporting solutions, AgencyAnalytics is a shining example and is quite helpful. Campaign Analytics, Campaign Management, custom reporting, client reporting dashboards, Google Analytics Integration, and Keyword Rank Tracking are just a few of the capabilities available in the AgencyAnalytics application. Additionally, by offering PPC reporting software, SEO reporting software for clients can carry out rank tracking, audits, and backlink reports creation. It also offers more than 60 additional services, the most important of which include elements like social media, analytics, and PPC. Digital marketing companies, media agencies, brands, independent marketers, and other associated business sectors are the places where it can be employed most effectively.
Source: Whatagraph
Whatagraph stands out among the client reporting tools as one of the significant and widely cited instances of reporting tools. Whatagraph is also utilized as an automatic client reporting tool and offers accurate, useful reporting of your clients. These client reporting solutions enable digital businesses to quickly and expertly provide reports for their clients. This approach makes it simple to establish a client reporting dashboard and facilitates our presentation.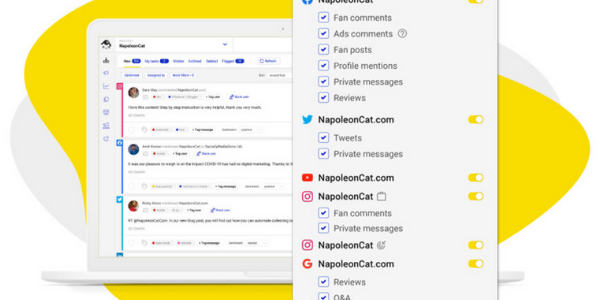 Source: NapoleonCat
Among the social media reporting tools, NapoleonCat stands out and promotes client engagement on social media. NapoleonCat, which we may use as an illustration of a reporting tool, includes a variety of capabilities including analytics, automation, and social networking.
Source: ReportGarden
The final example of reporting tools is Report Garden, and we can claim that it is a nice one. You can link and combine your data to a single platform with this client reporting tool. Report Garden appears to be an automated reporting solution with a wide range of capabilities, including creating performance reports, managing customer data, checking SEO rankings, etc.
Which one will you select then?
Everything depends on what you require.
You could want an "all-in-one" to help you bring all those metrics together if you already have a variety of specialist tools.
If not, choose from the list according to which will help your clients.
If you're still unsure, why not give them a try? These days, the industry norm is free trials.
Never forget that your main objective should be to be transparent with your clients and, in doing so, to save time. These resources should enable you to accomplish both.
For more interesting and informative content, subscribe to our blog!