By Yongzhen Tham on Apr 9, 2015 9:42:00 AM
Never heard of Inbound Marketing? Well, now is the time to know more. Or if you've heard about it but don't understand it, you're at the right place. Inbound Marketing is everything that matters to your business, and here is everything you need to know about it, in this two-part blog post.
WHAT is Inbound Marketing?
Inbound Marketing is about using content to attract customers, rather than pushing your business outwards to potential customers, as in the case of traditional, outbound marketing. Inbound Marketing, by naturally earning your customers' attention with your interesting content, brings them to where they want to be—closer to your business.
HOW can you start on Inbound Marketing?
Creating content and spreading that content is what drives the process of Inbound Marketing. At this point, you might be wondering: How am I supposed to create content? What do you mean by content? To learn more about content creation, take a look at our previous blog post: 4 Easy Ways To Churn Out Blog Content Consistently. As for what you should be creating content about, it can be anything that would spark interest in your business, such as educational and informative material that solves people's problems.
As for how to get your content out there, there is a plethora of platforms you can use, such as blogs, podcasts, videos, eBooks, e-newsletters, search engine optimization (SEO), social media marketing, and so on.
How Inbound Marketing works: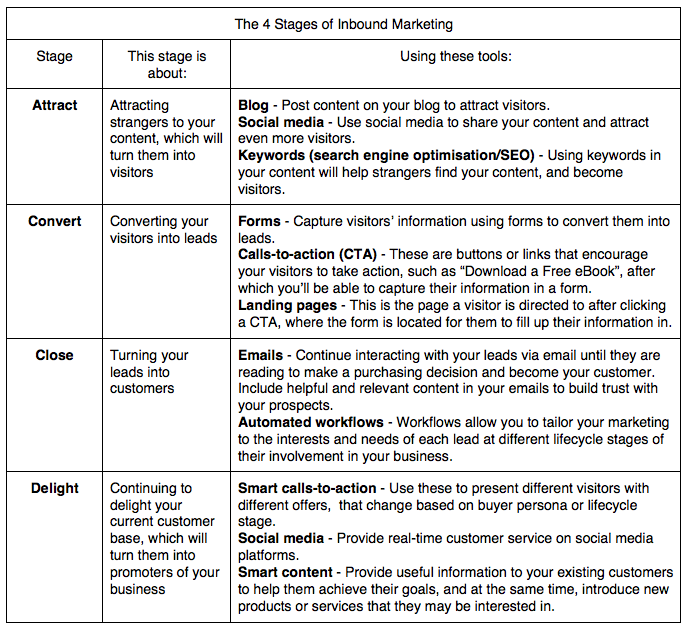 Now that you know what Inbound Marketing is all about, stay tuned for the second installment to this post to find out why you, and all other businesses, should start on Inbound Marketing right away.
* Inbound marketing is a form of digital marketing that involves SEO, Social Media, blog and landing pages to generate sales leads.