By Pooja Vinod Kumar on Oct 23, 2018 5:20:11 PM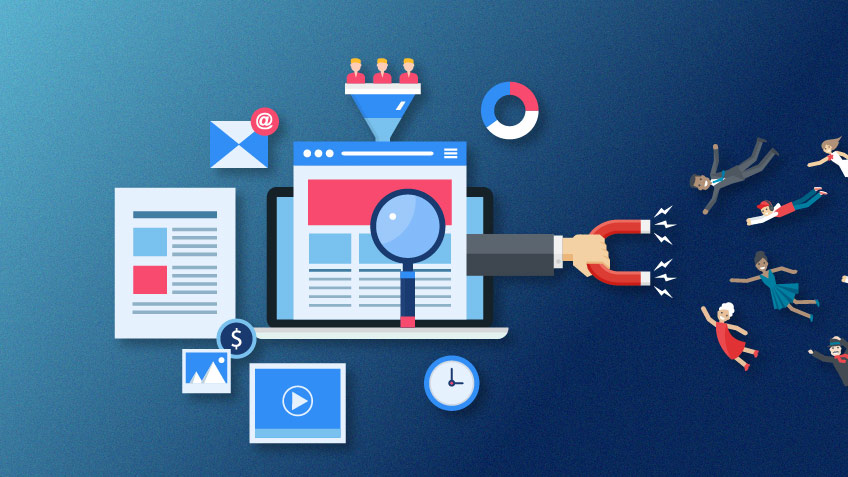 Outbound marketing refers to any kind of marketing where a company starts a conversation and send its message to as many audiences as possible through various methods. Although it had a tremendous impact in the past, with the advancement of technology where everything is being digitized, outbound marketing has become less effective than before.
This post will dig deep on why inbound marketing – a brand new approach to marketing is better than outbound marketing, and why you should invest in this approach too!
What is Inbound Marketing?
If outbound marketing can be described as pushing out information to the audience, then inbound marketing would be the strategy of pulling in audience to your business. The different strategies include content marketing, SEO, SEM, social media and many more! The ultimate goal is to create brand awareness and attract new business.

Reasons why inbound marketing has a competitive edge over traditional forms of marketing:

1. Lower cost to run Inbound marketing
The traditional method of marketing makes use of advertisements that are being posted on television, radios and billboards. The cost could be huge – considering how much time you need to invest in designing the ads, renting the billboard, and advertisement costs.

On the other hand, the inbound marketing methodology, although it still involves some cost – including time to create content and optimization process through SEO, it is comparatively much lower than traditional marketing.

2. More Focused and Personalized
Think about traditional marketing: Take, for example, running advertisements on different channels like TV and radios. The main drawback is too many "don't knows" – you don't know who is your target audience, who have seen your advertisement, who liked or disliked your products or services, etc.

While in inbound marketing, we focus on building a relationship with customers using customized content. By engaging with customers individually and treating them like a real person instead of just getting the sales deal, it makes inbound marketing methodology more appealing to customers and more effective than traditional marketing.

3. Inbound Marketing is Measurable
Based on the points above, outbound marketing cannot answer all the "don't know's", whereas inbound marketing can do it! How?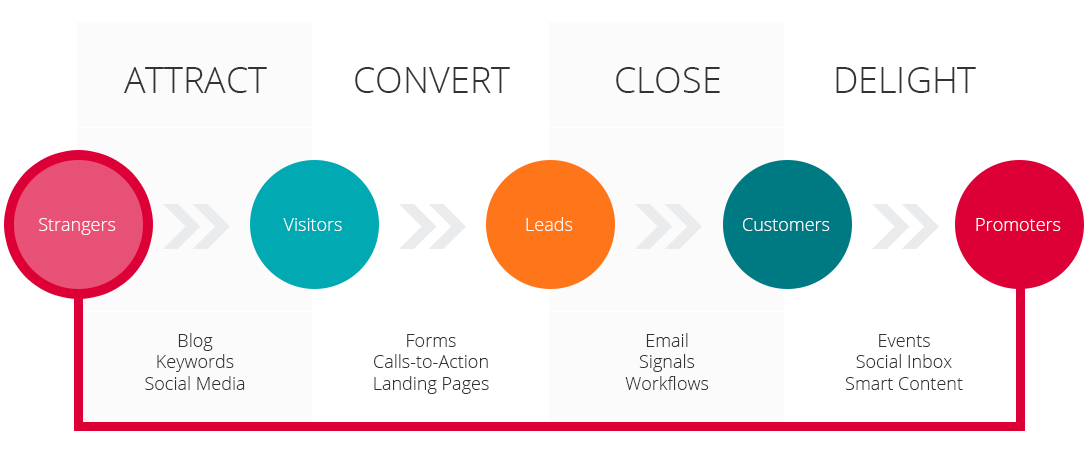 The inbound methodology, as shown in this diagram, aims at attracting strangers to visitors, converting them into leads, and eventually closing them into customers.
To successfully accomplish the whole inbound methodology, there are some ways to gather information about your potential clients.

For example, a common method of converting visitors into leads is the use of landing pages, where visitors have to commit themselves by providing some personal information, such as their name and email address to the company. In this way, you can track all the leads that you have, nurture them and eventually close them into customers.

Besides, with the use of marketing software like HubSpot, you can even track the engagement rate, blog post views and organic search traffic to your website, thus providing you with quantitative data feedback of what's doing well and what's not.

Therefore, the whole inbound marketing process is targeted, focused and measurable, unlike outbound marketing; seems quite impossible to measure how many people have seen or read your advertisement on billboards, right?

4. Inbound marketing is Continuous
Traditional marketing using different means can be done once for a certain time period, like the billboard advertisement. But all of these are one-shot. After the campaign ends, you have to invest money again to build advertising again.

On the contrary, implementing inbound marketing using an appropriate content strategy or Ebook would be more impactful in the long run. Under inbound methodology, you would need to create a piece of content, such as a blog post or an Ebook, and you're good to go! People will download it time after time, year after year. Thus, it can sustain for a very long period of time.

Inbound marketing may not be the answer to all your marketing efforts, but this is certainly a trend that cannot be ignored in the era of digitization.

Therefore, it is worth-while for many businesses to invest in inbound marketing and consider whether this methodology can be implemented to generate the best possible ROI.