By Nelson Tan on May 7, 2016 9:55:08 AM
As an Inbound marketing tactic, lead nurturing via email marketing is all about understanding the nuances of your leads' timing and needs. By getting these details right, you set yourself up for success.
If it typically takes your leads a month to make a purchasing decision, then make sure you're spreading out your communications to keep them engaged throughout the month. By taking a systematic approach, you increase efficiency because you educate and qualify each and every lead over time, thus giving them a uniform experience. This is only one of the reasons you should start doing lead nurturing.
These are 4 major benefits of lead nurturing:
1. Establish contact fast: Establishing contact quickly is key to actually connecting with your leads. An InsideSales.com study found that 35-50% of sales go to the vendor that responds first to an inquiry. A HubSpot Singapore study supports this data in showing that response rates decline as the age of a lead increases.
Automated lead nurturing is a great way to maintain engagement when a lead has already made the move to interact with you. And if that lead has stopped visiting your site or reviewing your offers, lead nurturing helps to remind them about your business.
Once you set it up, emails are sent out automatically according to your schedule as new leads come in. You might launch the campaigns and forget about them, but the emails will be doing the work for you, helping you qualify leads and push them down the sales funnel faster.
In fact, Market2Lead found that nurtured leads have a 23% shorter sales cycle. This means that a salesperson spends less time on warming up and qualifying a lead.
2. Stay top of mind: Lead nurturing enables you to build thought leadership. People engage with businesses they know and trust. The first time someone converts on your website, the likelihood that they really know who you are or understand why they should do business with you is pretty slim. Lead nurturing is an opportunity to show that you are an expert in your field.
Lead nurturing also allows you to maintain consistent communication with your leads. 66% of buyers indicate that "consistent and relevant communication provided by both sales and marketing organizations" is a key influence in choosing a solution provider, according to a Genius.com study. Get off on the right foot, and don't let leads slip through the cracks with an automated lead nurturing campaign.
3. Learn about your leads: Lead nurturing emails are a great way to learn more about your leads. What challenges are they facing? What features or products are they interested in? By presenting different questions or types of content and identifying who responds to what, you can qualify your leads and set yourself up for warmer sales conversations.
Furthermore, you can segment your leads database and design very specific emails for more accurate targeting. MarketingSherpa found that segmented emails get 50% more clicks, so you should take any opportunity you have to segment your leads.
In fact, with HubSpot, you can craft your follow-up emails based on the action a lead has taken on your website (read "The Secrets Of Email Workflows For Lead Conversion"), thus showing that you are aware of their interest in the topic and what they might need next. Based on this information, lead nurturing emails can highlight reconversion opportunities that tie back to leads' earlier interests.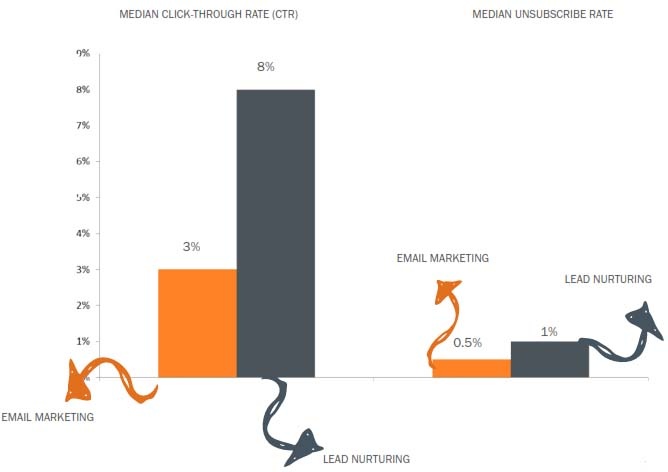 4. Better click-through rate and higher unsubscribe rate: HubSpot did a statistical analysis of more than 2,400 companies using mass email marketing or lead nurturing and found that the lead nurturing approach enjoys higher click-through rate.
Interestingly enough, lead nurturing emails also had a slightly higher unsubscribe rate than individual email sends. While this can be viewed as a seemingly negative performance, it actually is an indicator that lead nurturing is doing its job of qualifying leads and eliminating people who are not interested in your company. Only the most engaged leads will move down the sales funnel and can potentially turn into new customers.