By Chong Wei Ling on Oct 21, 2020 11:20:11 AM
For many businesses, solving the queries of your customers to ensure consumer loyalty and to maintain your customer service level has become a necessity. Technology has helped to make customer service more efficient and chatbots are considered the future of customer service and management.
What are chatbots?
Chatbots are software that communicates with humans through messenger apps and on websites. In other words, chatbots live on the same platforms where most people who are present online spend their time.
A chat interface allows chatbots to converse with users and they help to provide answers for frequently asked questions. Chatbots can be used with almost all popular messaging apps. These bots can be given distinct personalities as well.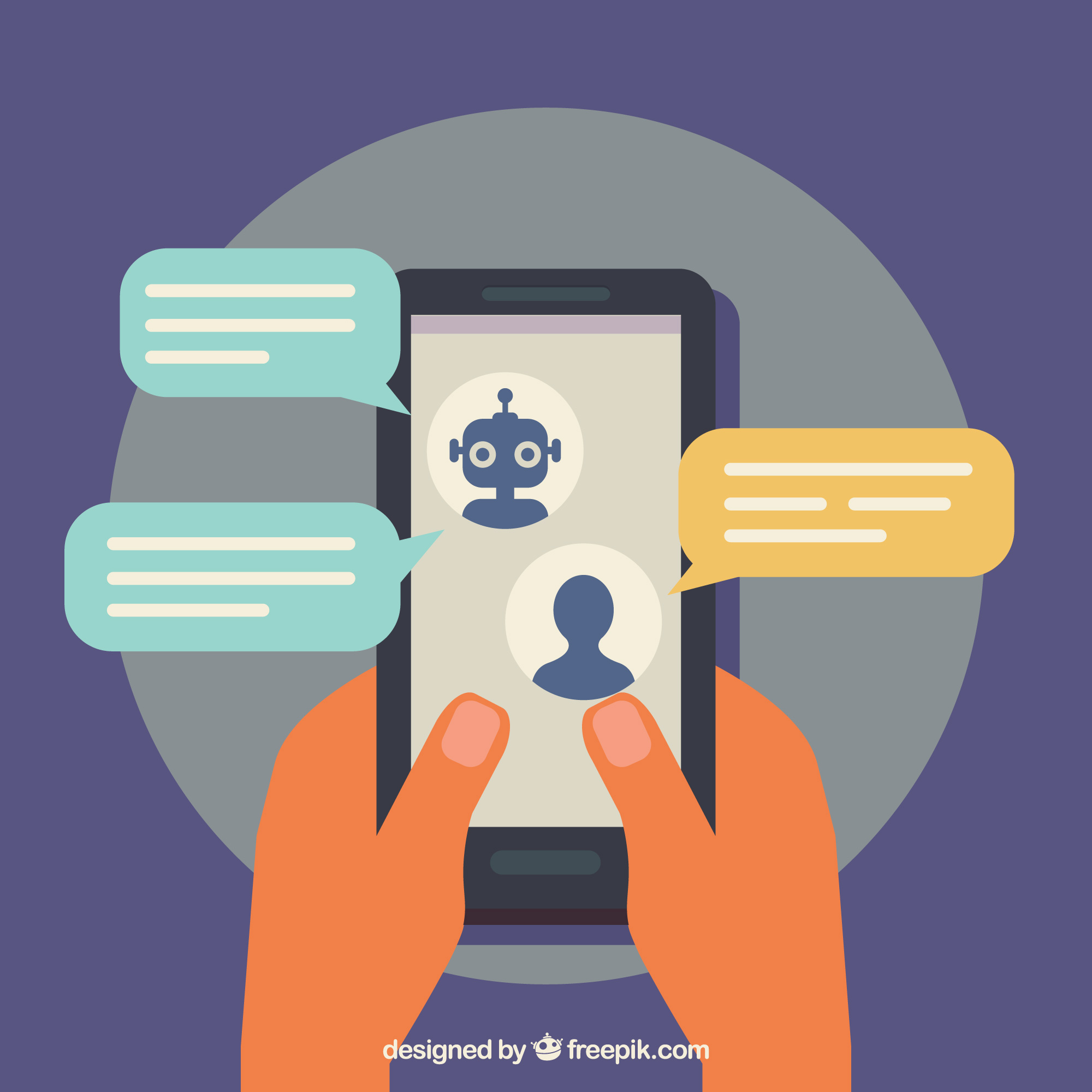 Chatbots can understand written and spoken text, and interpret its meaning. The bot can then look up relevant information and deliver it to the user, saving time for the customer service team to handle other queries.
---
By 2020, 85% of consumers will engage with businesses without ever interacting with another human being, according to predictions from Gartner Research.

That's why more and more companies are leveraging chatbots and messaging tools like Whatsapp to engage with their prospects and customers.

On top of this, consumer expectations of businesses to deliver on this have never been higher - according to Google, 61% of people now expect brands to deliver personalised experiences. That's where chatbots come in.
For businesses, this is a massive opportunity to offer additional services.
Using chatbots, you can help your clients qualify leads, book meetings, provide customer support, all on their website. And scale their one-to-one conversations - all while building an entirely new revenue stream for your business.
There are also a lot more benefits to using chatbots for your business and here are 7 reasons why your business needs chatbots as summarised by Maruti Techlabs.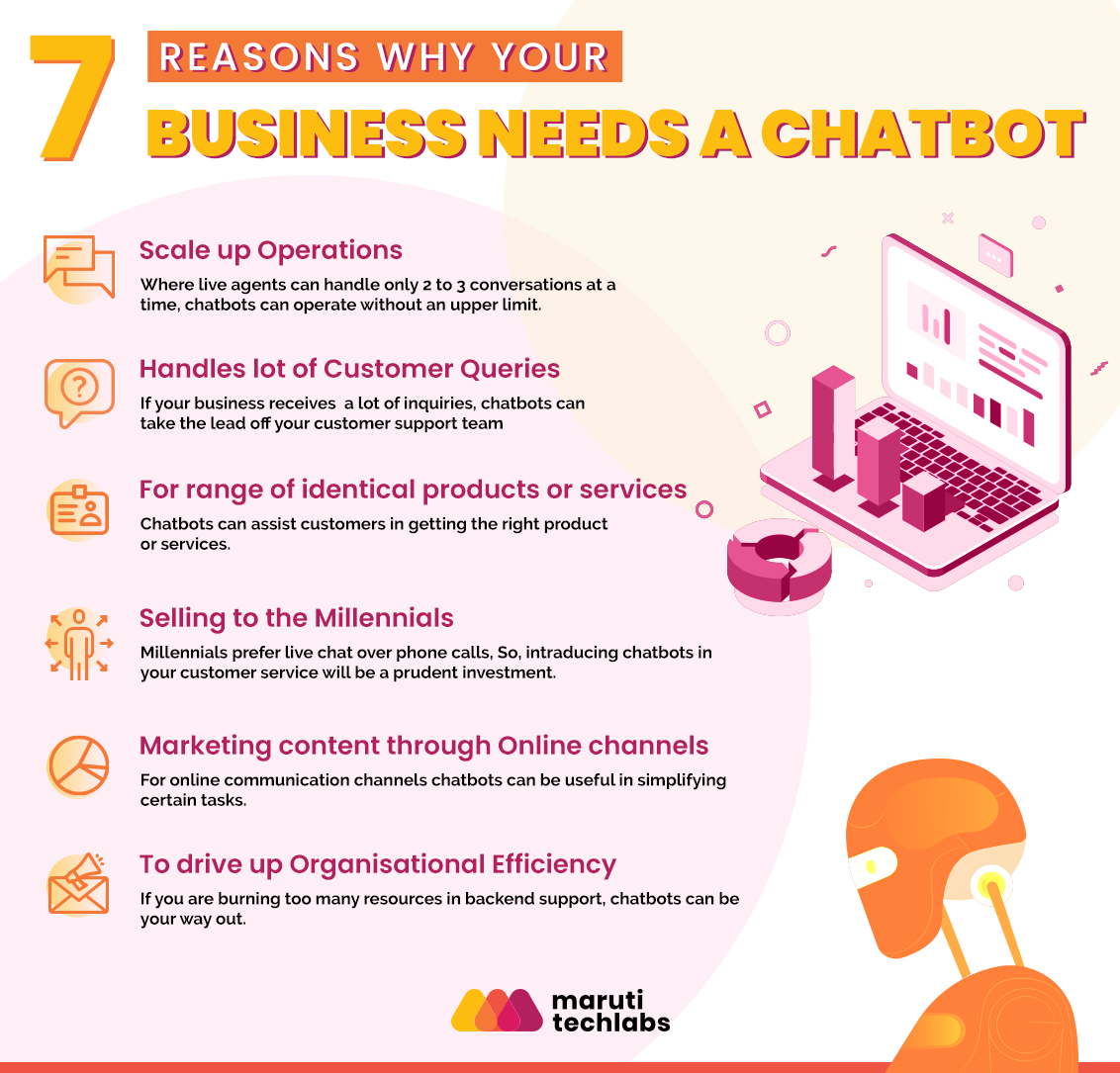 1. Scale Up Operations
- Chatbots do not suffer from the limitations of a human agent. Where live agents can handle only 2 to 3 conversations at a time, chatbots can operate without an upper limit.
2. Handles lot of customer queries
- If your business receives a lot of inquiries, chatbots can take the load off your customer support team. By acting as the first point of contact, chatbots can screen calls from customers and redirect them to human agents only when required.
3. For range of identical products or services
- If you are selling goods and services which are near substitutes for each other, your customers may need help in selecting the right product. Chatbots can assist customers in getting the right product or service.
4. Selling to millennials
- Millennials are not impulsive buyers. They like to inquire and compare products before they buy. Also, millennials prefer live chat over phone calls.
5. Marketing content through online channels
- The more you interact with your customers, the more business you get from them. If you are using online channels to communicate with your customers, then chatbots can be useful in simplifying certain tasks for you.
6. Having an interactive marketing platform
- Unlike apps and websites, chatbots do not present a passive user experience. You can use chatbots for a highly interactive marketing campaign. And the availability of chatbots on platforms like Facebook Messenger means you can reach out to more people at once.
7. To drive up organisational efficiency
- If you are burning too many resources in backend support, chatbots can be your way out. Instead of employing more people for mundane and repetitive tasks, install a chatbot business solution and automate everything.