By Juliana Cunningham on Sep 2, 2021 1:00:00 PM
The proper marketing stunt may propel your company to viral fame, but it'll always be risky. Follow in the footsteps of companies that have successfully carried off large-scale marketing pranks.
A major marketing effort may make or ruin your company.
While a blunder might tarnish your brand's image, a triumph could propel your company to viral fame. The perfect marketing stunt may help businesses of all sizes achieve their objectives, from increasing brand recognition to increasing sales.
To learn more, keep reading.
How some of the world's most well-known corporations have pulled off successful marketing stunts

When it comes to your brand, why might being disruptive be beneficial?

Advise on how to embrace the strange in your campaigns
IHOP
IHOP proved they were more than just a pancake palace with one of the most talked about marketing stunts of 2018.
It all started on June 4th, 2018, when IHOP announced that they would be changing their name to IHOb by flipping the 'P' over. They said that everyone would have to wait to find out what the letter 'b' stood for, which had everyone guessing right away.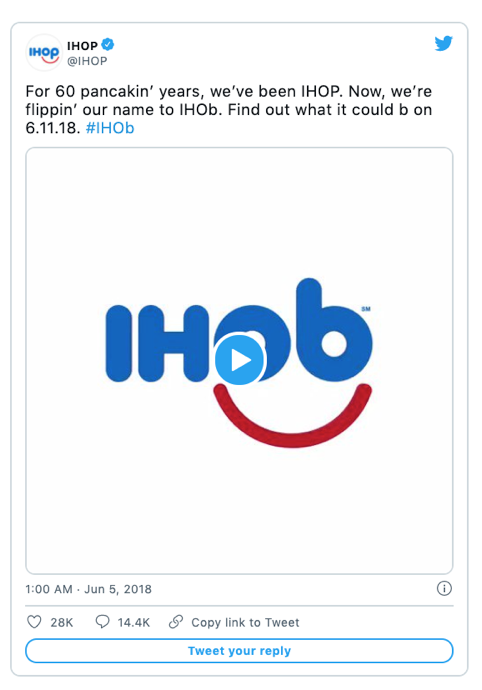 IHOP(b?) confirmed that the 'b' stood for burgers after days of discussion. IHOP's social media popularity skyrocketed as a result of this campaign, which not only had people associating burgers with their name (word of mouth increased from 19 to 30 percent).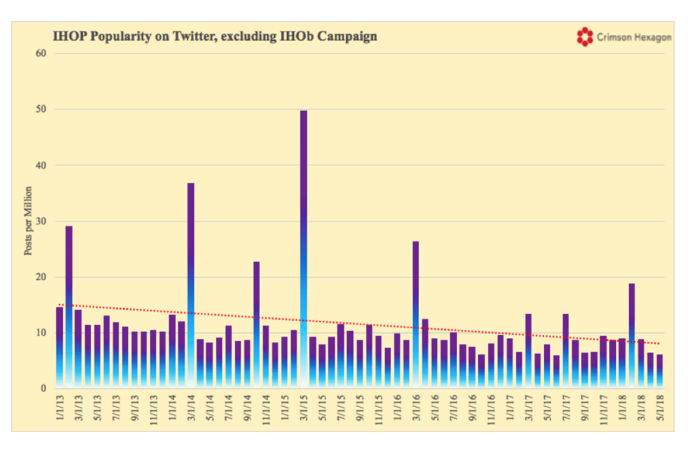 How can your company emulate IHOP's success?
Do your homework. You can't just go ahead and start a potentially dangerous campaign out of nowhere. IHOP observed that social media conversations regarding pancakes had decreased, while the popularity of burgers had gradually increased, prior to making their Twitter statement. Find out what your customers are talking about on social media and how your company can meet their demands.
Create a sense of anticipation. The first tweet from IHOP invited followers to stay tuned to see what the cryptic 'b' stood for. The ad took on a speculative tone as a result, and it became a fun guessing game for the public. A marketing strategy for your company can easily do this.
SodaStream
"The company is continuously seeking for revolutionary methods to create moments of joy," says SodaStream CEO Daniel Birnbaum. Their April Fool's Day campaign in 2018 was a huge success.
In this marketing hoax, Game of Thrones' Thor "The Mountain" Bjornsson and Shahs of Sunset's Reza Farahan introduced SodaStream's (false) new product, the SodaSoak, which is a sparkling water producer for the bathtub.
"The thing about SodaStream's campaigns is that they address important themes in a lighthearted and funny way that keeps a finger on the pulse of pop culture," Bjornsson explains. The approach paid off, with AdWeek reporting "this video reached many top April Fool's lists and gained brand exposure worth many millions."
What can your company do to compete with SodaStream?
Surprise and delight your audience. SodaStream's viewers may have questioned whether what they were witnessing was real because the commercial was made in the classic infomercial style. It's always great to surprise your audience with something unexpected, so take advantage of each opportunity to do so with strategic whimsy.
Recognize important dates. SodaStream's marketing was timed to coincide with April Fool's Day, yet important dates and celebrations occur practically every day of the year. Align your campaign to one of these dates when it's appropriate, and have fun with it.
Make your product stand out. Despite the fact that the SodaSoak isn't real, the spoof showcased the essential features of SodaStream's true product. The audience was reminded that the SodaStream can carbonate regular tap water even while watching a satire. Don't lose sight of what makes your product or service distinctive in the thrill of crafting an entertaining campaign.
KFC
If there's one brand that can prove that odd works, it's KFC. Over the last five years, their marketing antics have been fantastically outrageous, and it's a formula that works for the company.
A four-hour Facebook Live feed showing adoptable kittens climbing on a "fabric husk of a towering figure of the brand's mascot and creator Colonel Sanders" was one of their more outlandish promotions.
While you might scoff if an employee suggested a concept like this at a meeting, KFC's kitties drew over one million viewers.
How do you develop a KFC-style goldmine campaign?
Everything should be branded. KFC knows that putting their brand first and foremost works, whether it's an ad apologizing for a chicken shortage or a cat tower broadcast. Your company's growth depends on its ability to raise awareness and recall. Make the most of every chance to include your own brand into your content and marketing assets.
Accept the weird. While every business may not be able to execute a strange campaign like KFC's, every firm may embrace a quirkier approach to advertisements. Where appropriate, add a bit of playfulness to your efforts. If you can't release amusing content (say, because you're a political group or a serious government branch), you can still have a good time in brainstorming sessions, strategy sessions, and other stages of campaign preparation. For example, encourage everyone in your brainstorming session to come up with the strangest, most bizarre concept they can think of—there are no negative ideas. A free-for-all can sometimes produce the best "genuine" ideas. The worst-case situation is that someone on your team laughs.
Patagonia
While it is normally encouraged for corporations to stay away from politics, Patagonia's politically-inspired marketing gimmick received such a great response that their website crashed.
After the President of the United States made two proclamations reducing protected land in Utah's Bears Ears and Grand Staircase-Escalante National Monuments, Patagonia replied on their website and social media with images and messaging reading "The President Stole Your Land."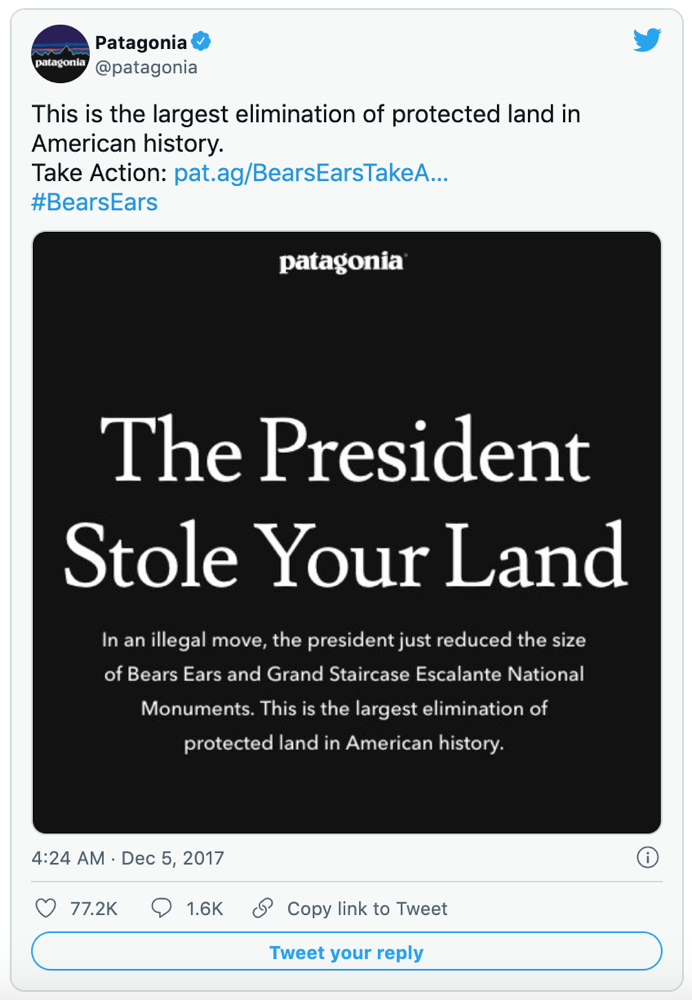 What can your company do to emulate Patagonia's success?
Know your audience. Patagonia understands that its target market values environmental stewardship and sustainability. The company donates a portion of its profits to environmental organizations, wears recycled, "Fair Trade" certified apparel, and runs its offices on solar energy.
Make a strong call to action. While it would have been easy for Patagonia to simply upload their ad and move on, they instead include a button-pushing their viewers to 'Take Action Now.' This takes users to a page where they may join a petition and tweet a pre-written message in support of public lands. Include a CTA when launching any social media campaign, regardless of risk level, so your audience knows exactly what you want from them. Check out AdEspresso's blog post for 31 brilliant CTA suggestions.
Burger King
Burger King may not be the first corporation that springs to mind when it comes to brands that address significant topics. With their Whopper Neutrality stunt, the fast-food chain proved they're more than capable of grabbing people's attention.
Customers ordered Whopper burgers, but they were delivered at varying times depending on how much they were willing to spend. This "was a devastating parallel for how the end of net neutrality may create fast and slow lanes for internet access," according to AdWeek. With over 4.5 million views on YouTube alone, it became their most popular ad of all time.
What lessons can your company learn from Burger King's campaign?
Combine education with a sense of humor. Although net neutrality is a complex issue, Burger King was able to explain the consequences in layman's terms. They are delivering essential education for their audience by making the message accessible to all—as well as amusing. Consider how your company can teach your target audience in a meaningful way, then build a campaign around these lessons.
Make an emotional connection with your customers. Anyone who sees Burger King's commercial will be sent on an emotional roller coaster. The content inspires a wide range of emotions, from empathy for the customers in the film and frustration on their behalf, to amusement; to fear as the reality of net neutrality repeal settles in. Emotions are an important aspect of our ability to remember information, so they're a big part of a lot of successful commercial campaigns. Consider how you can elicit an emotional response from your audience, whether it's through humor, love, joy, or plain old FOMO. More suggestions for adding emotion in your campaigns may be found in our blog piece, Social Media and Psychology: 4 Things Marketers Need to Know.
Any marketing stunt has the potential to boost or detract from your brand. Your risk can absolutely pay off if you follow the lead of the successful brands above and know what you're doing.