By Neha Sodhi on Oct 18, 2022 8:00:00 AM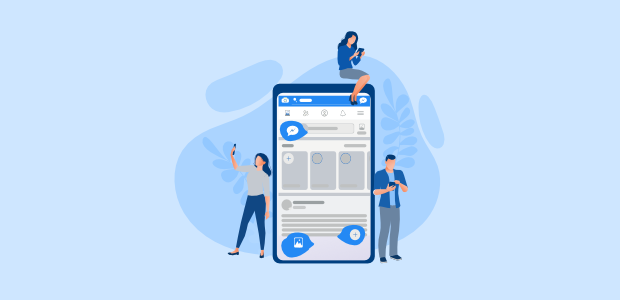 Mark Zuckerberg announced a change to Facebook's news feed in July. It's been split in two! Facebook now has a Home tab and a Feeds tab. The Home tab includes content recommended to users based on their actions on the app. The Feeds tab shows content from people, pages, and groups the user is following. The goal is to make it easier for Facebook users to see their favorite content and make new discoveries. It's also meant to keep Facebook competitive with TikTok.
But what does it mean for marketers who relied on Facebook's news feed to find and maintain an audience? Here's what marketers need to know about the new tabs.
Facebook's Home Tab
The Home tab is the first feed users see when they open the app. Like the Feeds tab, Home will have content the user is already following, but the feed will prioritize recommended content from the app's discovery feature.
Content prioritized in the Home tab will include Reels and Stories. To get your marketing content on the home page so your brand can reach new consumers, you should leverage short-form video content like Reels.
Another way to end up on the Home tab is to leverage live streams. Livestream opportunities can include live Q&As, webinars, and workshops.
Facebook's Feeds Tab
The Feeds tab shows content from pages, groups, and communities the user is already following. There is no content from the app's discovery feature — however, ads will still be shown on Feeds. Therefore, investing in Facebook Ads can help your brand's content get on the Feeds tab and expand your brand's reach there as well.
However, delighting the audience you already have should be your focus when it comes to Feeds. Notice that Feeds is separated into different sections — All, Favorites, Friends, Groups, and Pages. To stay top of mind for your audience, your company should have content in as many sections as possible, particularly All, Favorites, and Groups.
Marketers should create Facebook groups that appeal to their audience's interests.
To get your content to the All and Favorites sections, regularly post engaging content like short-form videos, livestreams, polls, and statuses. By keeping a consistent stream of quality content, your brand will appear in the All section regularly. If your content is compelling and includes CTAs telling users to add your brand's page to their Favorites, you'll have content in that section as well.
Meta's change to Facebook's feed means marketers will have to adjust their social media campaigns on the app, but the adjustment doesn't have to be difficult. Leverage short-form videos like Reels, find livestream opportunities, invest in ads, and work to foster community — and that will keep your audience engaged whether they're on the Home tab or Feeds tab.
For more interesting and informative content, subscribe to our blog!