By Juliana Cunningham on Aug 17, 2021 3:53:45 PM
Find out which social media tools you should have in your content marketing toolbox.
You already know how critical social media is for raising brand awareness, generating more leads, and ultimately converting more customers.
Because the world – at least half of it — is on social media, your business must be there as well if you want your product, service, or mission to reach the widest possible audience.
Social networking, on the other hand, may be incredibly time-consuming. It also encompasses a wide range of responsibilities, from data-driven operations like tracking analytics to creative jobs like graphic design.
Finding the knowledge and manpower needed to implement a solid social media plan can be tough, which is why you need social media tools to assist you.
We'll go over the best social media tools to use in 2021 in order to save time and enhance conversions.
What makes for a good social media tool?
Although the term "social media tool" is very general and can apply to a wide range of services, there are a few key features that your top social media tools should have.
It helps you save time.
A social media tool's purpose is to save you time while providing you with similar — or better — results than you could achieve without it. Look for social media tools that automate a process, but double-check that the process is still completed appropriately, as certain shortcuts may be too quick and so neglect quality.
It helps you increase brand awareness.
One of the most significant advantages of social media is its capacity to raise brand recognition, which is why each social media platform you choose should focus on brand awareness.
Perhaps your go-to tool is an editing platform like Lightroom, which can assist you in creating photographs that are consistent with the rest of your feed. Perhaps it's an Instagram scheduler, such as Later, that allows you to see your profile before posting photographs. Whatever the situation may be, the primary goal of social media platforms should be to raise brand recognition.
It's easy to use.
Social networking platforms are only useful if they are simple and intuitive to use. Each tool you use should be extremely user-friendly, so that your accounting team can modify photographs if necessary, and your creative, right-brained authors can track daily social metrics using the analytics feature.
On their websites, several social media applications offer tutorials. Others, such as Kicksta, have excellent customer service and can provide you with fast expert advice if you need assistance getting started.
It's affordable.
The cost of social networking tools should be reasonable (and most of them are). Many high-quality social media tools, such as the Unfold app for generating Instagram stories, are even free.
You won't have to go back and forth with the accounting department to have your budget approved with social media technologies. The majority of social media platforms are already inexpensive, so all you have to do is sign up.
It keeps you organized.
Because one of the ways social networking tools save you time is by keeping you organized, be sure the ones you choose are efficient and neat.
HubSpot's Social Inbox service, for example, helps you prioritize your social media connections, while graphic design website Canva stores your creations so you can alter them later.
Best Social Media Tools:
Buffer

Buzzsumo

Missinglttr

Canva

Unfold

Hootsuite

Retouchup

IFTTT
Buffer
Buffer started out as a Twitter scheduling tool. It now works with all of the major social media platforms, such as Facebook, Instagram, Pinterest, LinkedIn, and Google +. (for the one person who still uses it.) Let's take a closer look.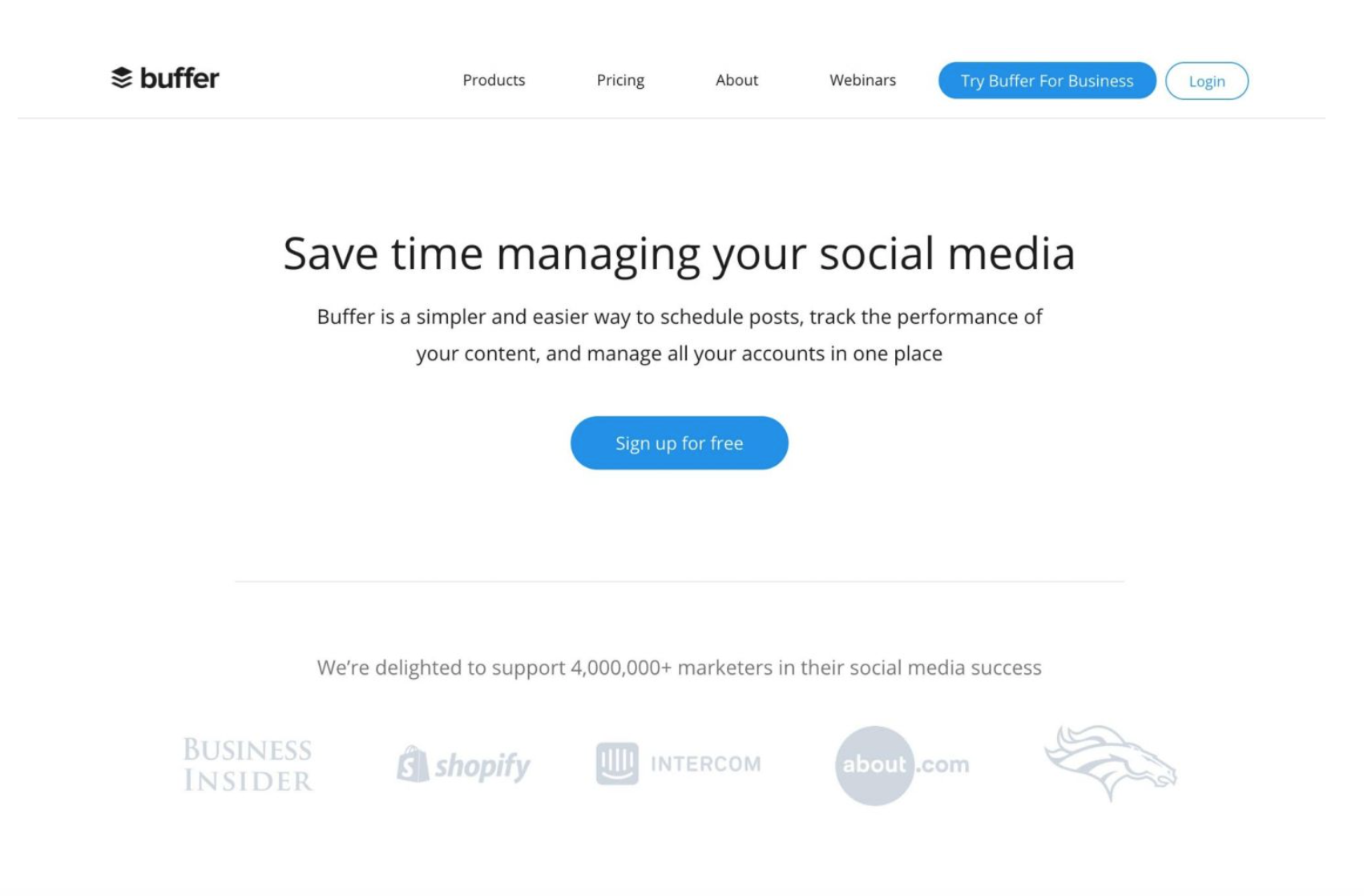 Buffer allows you to accomplish some very cool things:
Add articles and material from the web to your Buffer queue or share content on the move with the Chrome extension.
Shortens links you share automatically. You can link your Bitly accounts if you're a Bitly user.
Upload your own images and videos (or use ones pulled from the article you shared).
To track the performance of your material, you can use advanced analytics.
Create a posting schedule to distribute your information throughout the day.
Buffer allows you to respond to posts from within the app.
Members of the team can be added.
Buffer, a social media dashboard, allows you to fill your social media feed with relevant and interesting material without having to spend half your life hooked into Facebook and Twitter.
Buzzsumo
Marketing requires much research. If you want to succeed and leave your competitors in the dust, you must first figure out what they're doing and whether or not what you're doing is working.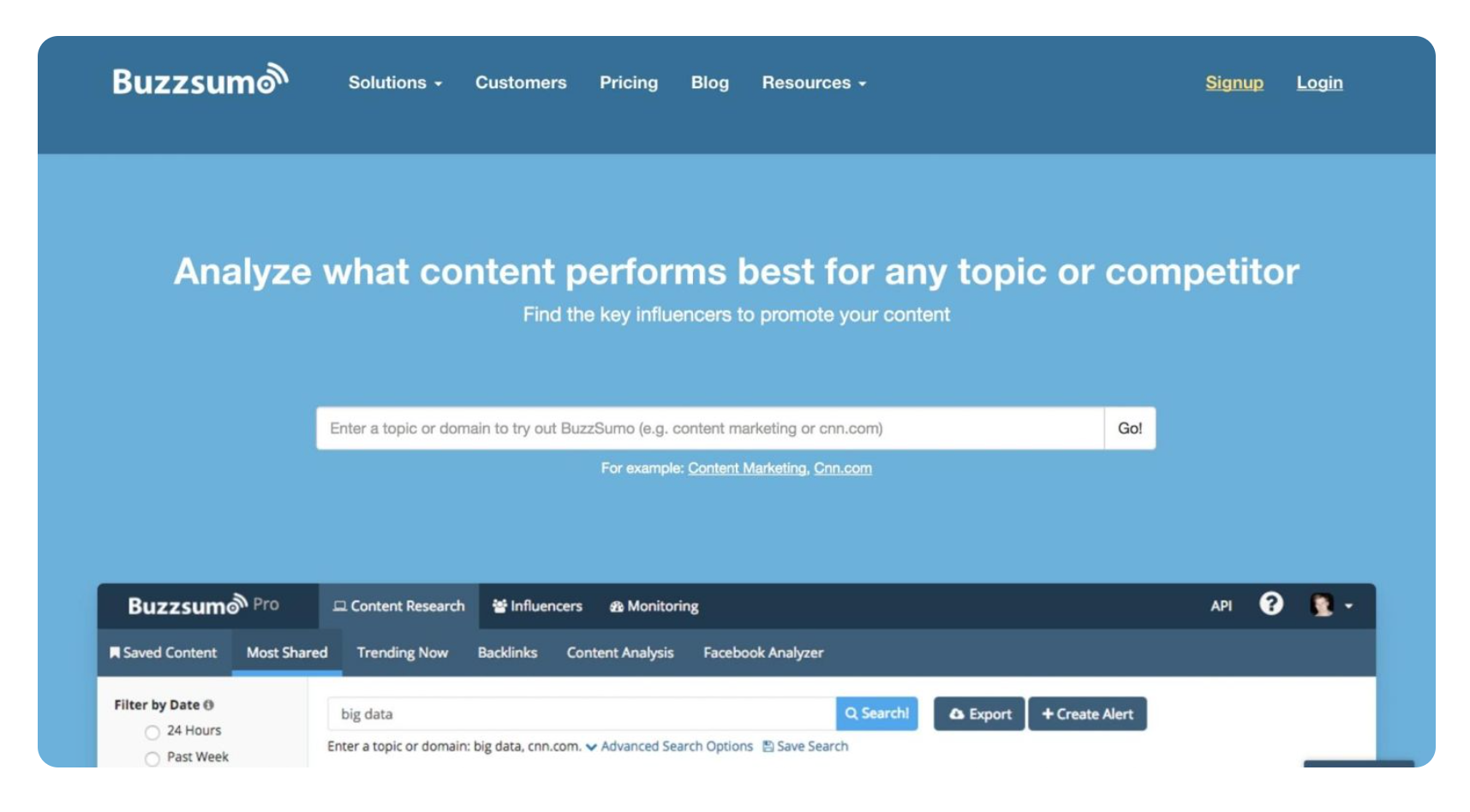 Buzzsumo is a research tool that shows you how well your content is performing and who is sharing it.
When you sit down to produce content, you may feel like you're on fire. Sometimes it's like pulling teeth, and you're simply glad you made a deadline. Although there is no way to ensure success, a tool like Buzzsumo can help you improve your chances.
The functionality of one of the most sophisticated research tools on the market includes:
Find the most popular material on social media channels — input your own or someone else's domain to see what's been posted on social media.
Find influencers who are interested in a specific issue.
Receive notifications based on keywords, brand names, links, author names, and domain names.
Keep an eye on your competitor and conduct an analysis based on their material.
It can be used to find keywords and hot subjects that your target audience is interested in. It can be used to identify new posts to share or to look for content ideas based on what's working well.
And, if you're willing to spend some money, Buzzsumo Pro is a formidable rival research tool.
Missinglttr
Although social media advertising is essential for online success, the act of scheduling posts may not be the reason you get out of bed every morning. Even if you utilize a program to automate the process of blasting all of your channels at once, you must still manually enter the content and photos for each post. Re-promote the posts by rinsing and repeating the process.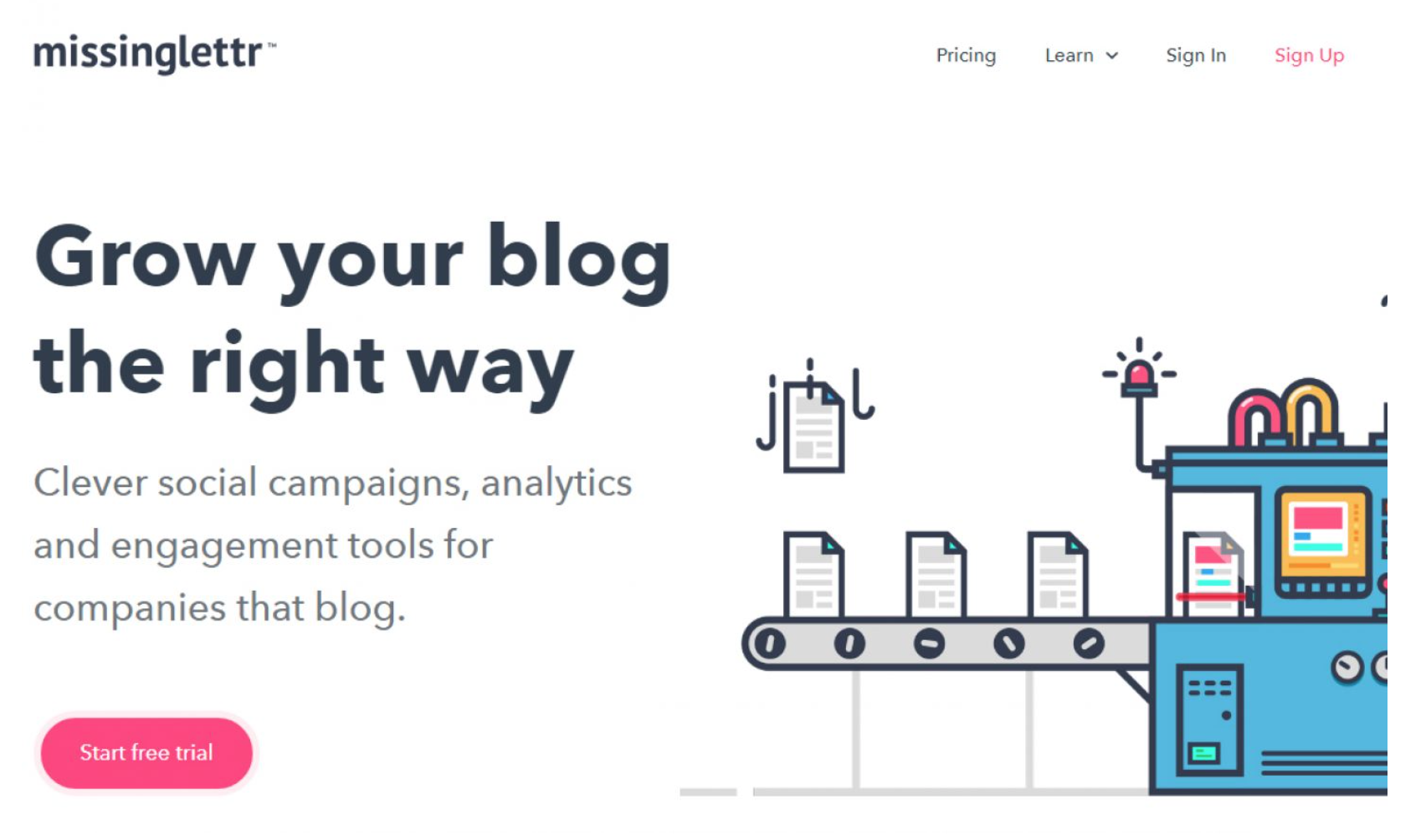 Missinglettr automates the process of creating social content by harvesting the content of your blog articles and creating a year's worth of social content for you: nine separate posts distributed across your social networks over the course of a year.
This means you can concentrate on producing long-form blog entries while someone else handles the creative side of social promotion and post scheduling, reducing your to-do list by one item.
Missinglettr has some wonderful features that will lessen your work, including templates for content development, scheduling, and streamlining client approvals, as well as a custom URL shortener to export campaign assets so they may be used in subsequent marketing projects. You'll even get a weekly report to keep track of your marketing efforts.
Canva
Canva is a simple graphic design service that allows you to make personalized, on-brand graphics for your business's social media pages. If creating social images from scratch seems difficult, utilize one of the website's dozens of templates, which include anything from Facebook banners to Instagram stories to Twitter postings.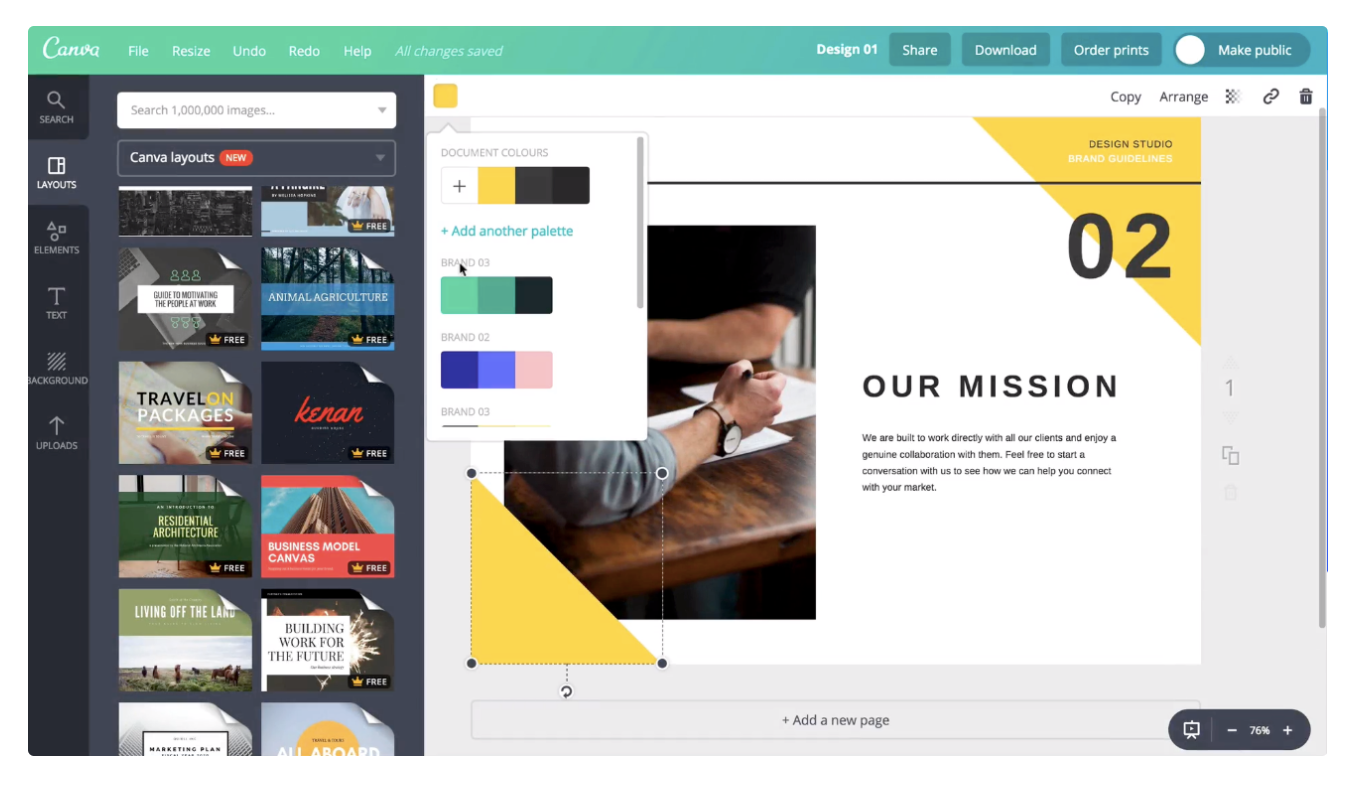 As one user put said, "Canva has been a godsend for me and my company. No more spending hours in front of the computer creating visuals for social media or Pinterest posts."
Unfold
Unfold is an iOS and Android software that helps you create beautiful templates for Instagram stories. It's described as "a toolset for storytellers." The main concept of Unfold is to bring your creative visions to life.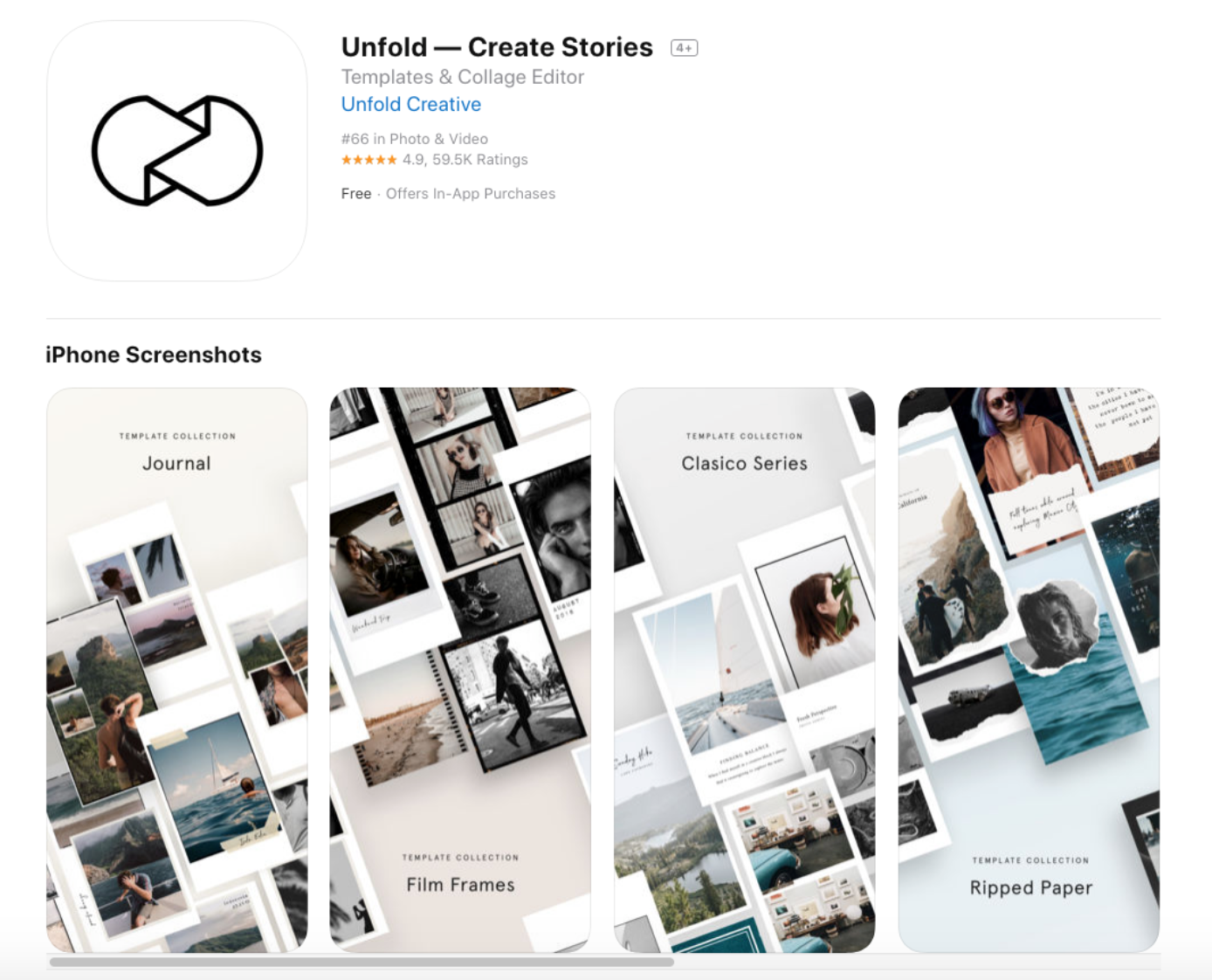 It's a great app for lifestyle firms that want to make elegant collages to keep their social media profiles consistent and get the most engagement from their fans.
Hootsuit
Hootsuite is a free service that manages several social media accounts and consolidates them into a single dashboard in the chaotic world of social media.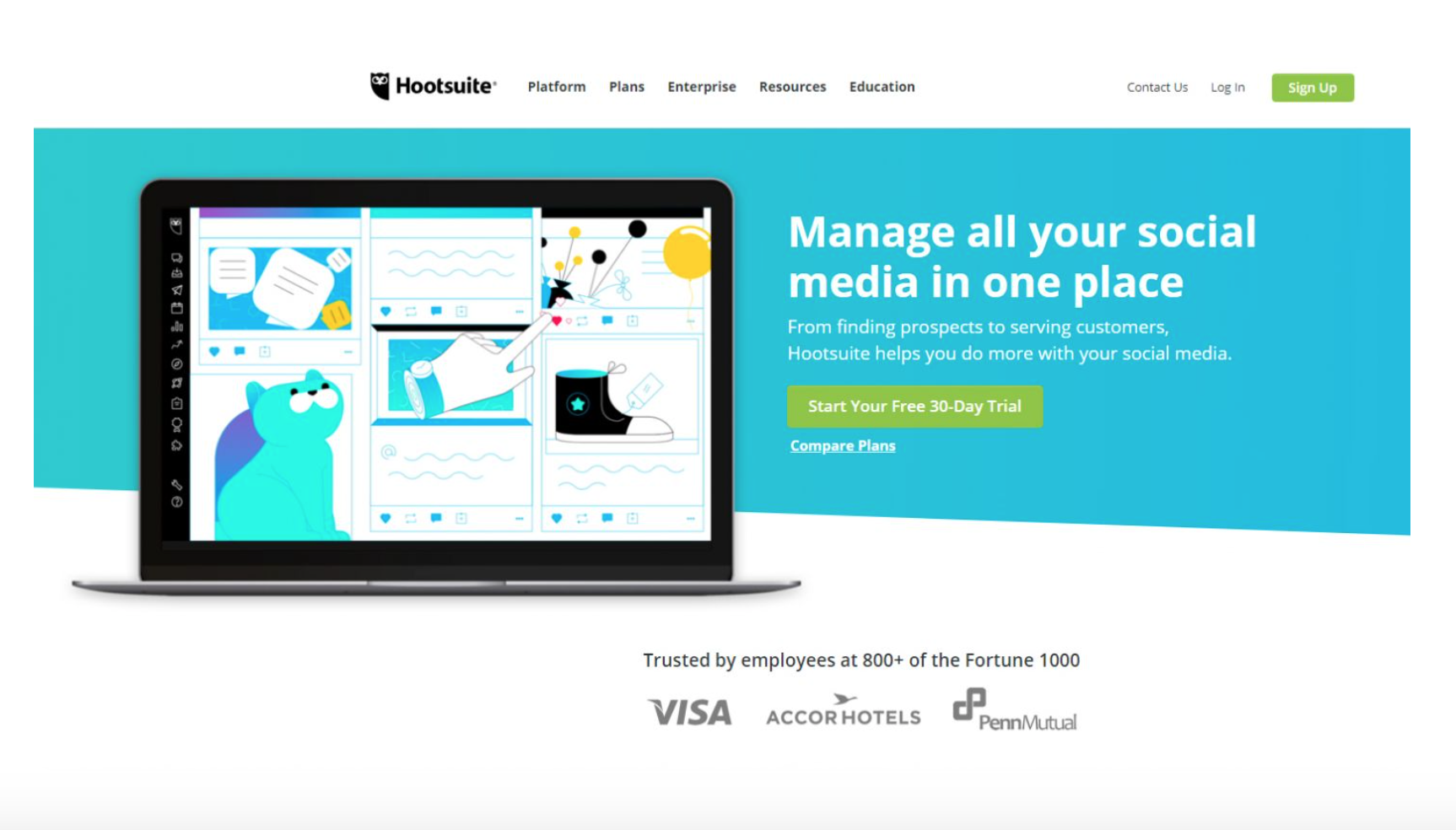 Hootsuite, one of the most popular social media management platforms, provides for team collaboration as well as an approval procedure. You may assign tasks, design a social media calendar, and schedule updates in addition to seeing all of your comments and mentions in one spot.
You may take free online social media courses with Hootsuite Podium to improve your social media management abilities and understand the principles of social media marketing.
Beyond that, its products interface with Facebook, Twitter, Instagram, Google+, and YouTube, giving you a detailed overview of your data and allowing you to interact with potential customers.
Other community-based platforms, such as Reddit, Tumblr, and Storify, can be integrated to assist collect even more feedback and customer data.
Retouchup
From basic color correction to more complicated Photoshop-like capabilities like adding or deleting people from a photo, the website Retouchup makes it simple to modify photos for social media. You don't have to do any work with Retouchup; instead, you simply submit a photo, and the website's professionals will alter it for you within 24 hours.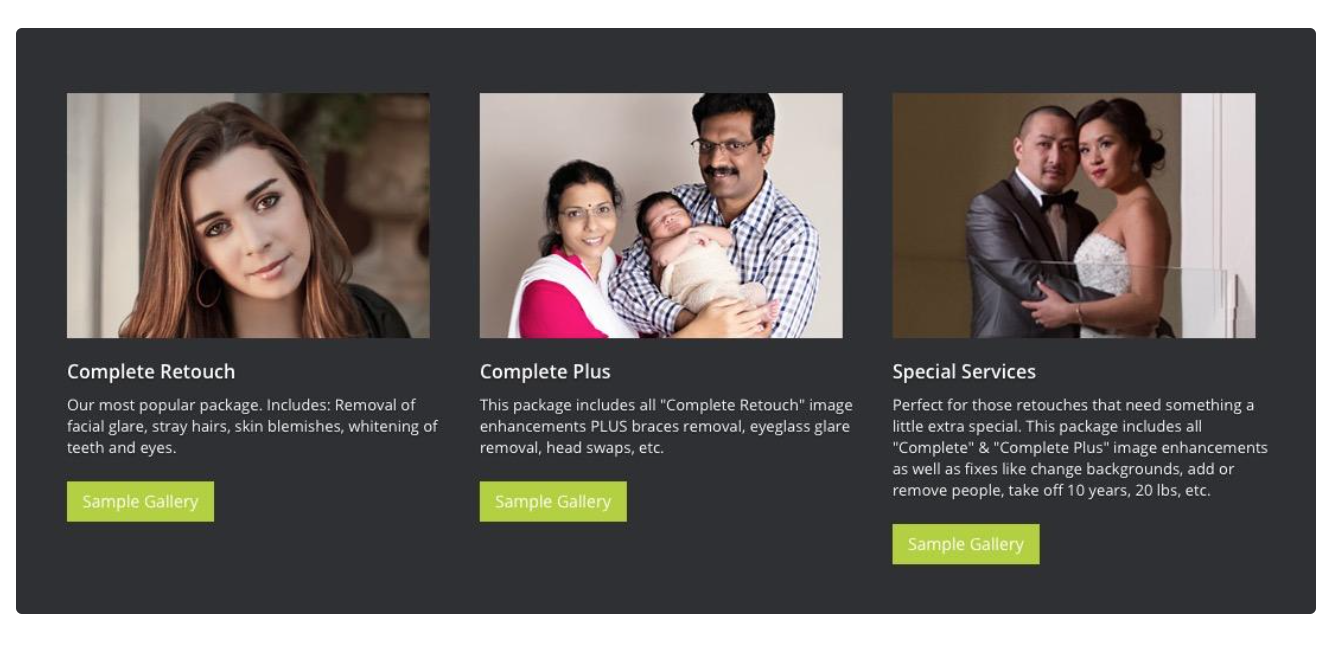 One user said, "You're making me look like an amazing photographer!" Retouching can save you time during the editing process while also improving the quality and impact of your photographs.
IFTTT
If this happens, then that happens, according to IFTTT. You may use this tool to create rules that will make managing your social media marketing empire lot easier.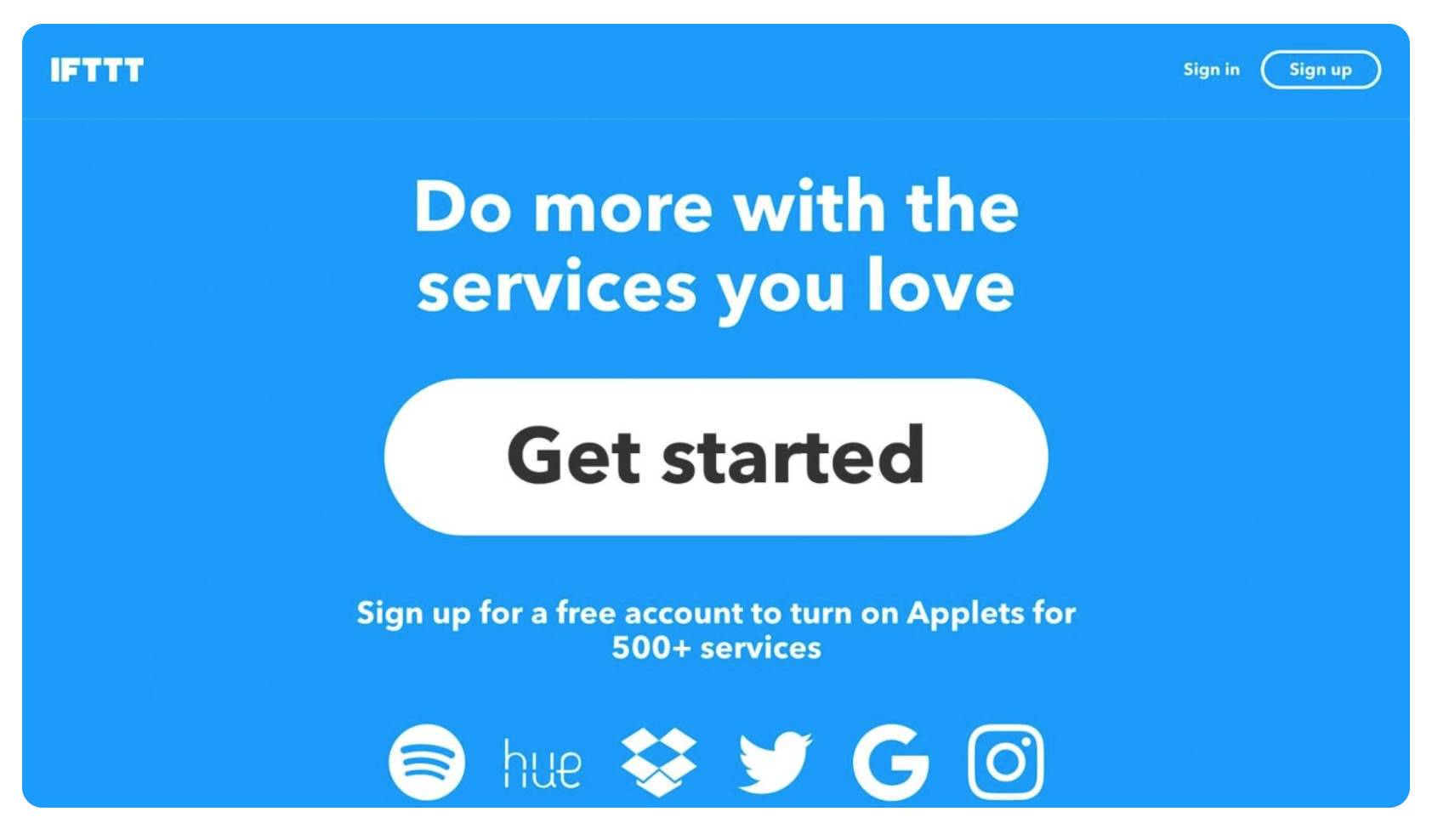 Create rules that will take particular actions when certain events occur. For example, you can set up a rule such that every time you receive a Google notice for a specific alert, it is automatically added to a Google doc so you can review everything at the end of the day.
These principles can help you streamline your process and emphasize and boost individual productivity by removing some of the manual back-and-forths.
Your toolkit is a unique (and evolving) collection of items.
There are a plethora of useful tools available, with new ones appearing on a regular basis.
The idea is to identify tools that will aid your marketing efforts and devote time to learning about them. Don't be scared to expand your toolkit, but don't toss out the old ones simply because something new and shiny has appeared.