By Migelie Luna on Aug 19, 2022 9:00:36 AM
We've all heard of "Death by PowerPoint," but with all that PowerPoint can do and all the projects it can develop into, why is there still so much it can't? The restrictions of PowerPoint contribute to some of its tediousness. Users often have brilliant ideas but struggle to put them into practice in their presentation designs. Add-ins are useful in situations like that.
How may a PowerPoint add-in benefit your presentations? There are add-ins for the majority of Microsoft Office products that increase their functionality. An add-in is a supplementary software that can be included to extend the functionality or capabilities of a program. In addition to many other features and functions, add-ins for PowerPoint enable users to collaborate more easily, produce slides faster, and incorporate interesting free images. Add-ins basically offer PowerPoint greater capability.
Are you looking for incredible PowerPoint add-ins to elevate your upcoming presentation? Look nowhere else! It will be quicker and simpler to create a PowerPoint slide deck with the help of the following 5 add-ins: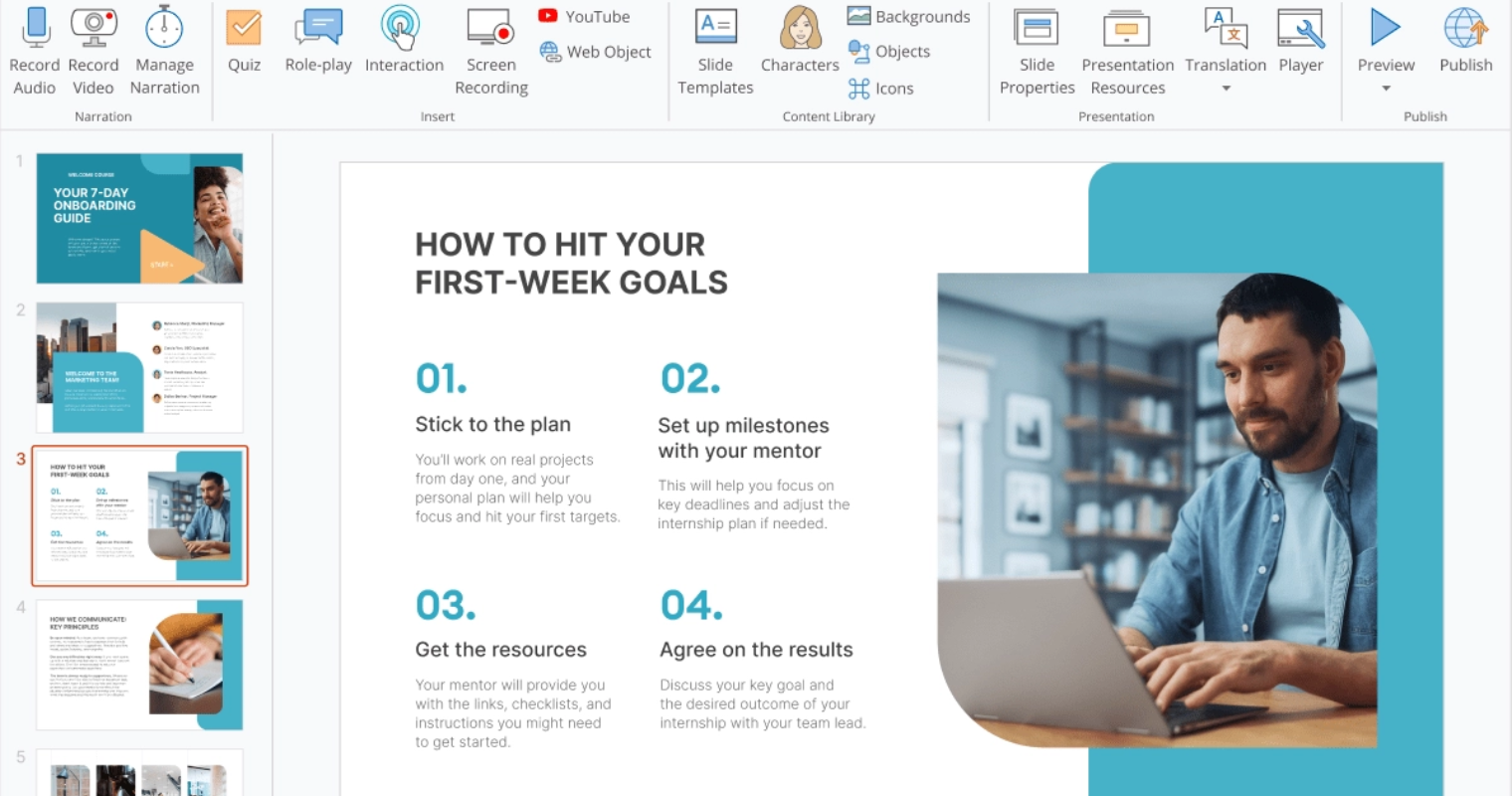 For individuals who wish to generate outstanding learning content without having to learn complicated software, iSpring Suite is a crucial PPT add-in. You may add interesting interactive exercises to PowerPoint presentations to make them become online courses.
The application is already included in PowerPoint. You only need to navigate to the appropriate tab on the PowerPoint toolbar to use its features.
The iSpring Suite add-in enables you to develop instructional content other than slide-based courses, such as:
Surveys and tests. With 14-question templates, including the popular multiple-choice and entertaining drag-and-drop, you can create interactive quizzes. By randomizing the quiz questions, mixing up the answer choices, and putting a time limit on it, you may make them impossible to cheat.

Role-playing games. To aid in the development of your students' communication abilities, create engaging scenarios that mimic real-world circumstances. By including pre-made characters and settings from iSpring's Content Library, you may streamline the authoring process.

Educational movies. Create training movies and software lessons using iSpring's screencasting and webcam recording features. Make them appear professional by using video editing options to remove extraneous material, alter the recording's speed and tempo, and add intro slides and remarks.

Encounters with e-learning. With 14 ready-to-use templates, you can present content in a more interesting way. With ease, create interactive directories, timelines, FAQs, and more.

eBooks. Quickly turn your PowerPoint, Word, and PDF files into readable eBooks with a page-flipping effect.

Lengthy courses. The iSpring Suite includes an online workspace where you can work together with your stakeholders to produce material and build courses online with other authors. For instance, your coworker may add graphics or develop a quiz while you are working on the content.
Starting at $770 per year.
Power-user is marketed by the manufacturer as a productivity add-in for Excel, Word, and PowerPoint users. It provides them with a set of tools that make it easier for them to work with presentations and reference materials and create attractive deliverables with their brand.
The add-in gives users access to tens of thousands of graphic resources, including 1 million images and 7,000 vector icons. The user can select from a variety of charts, intelligent diagrams, and 350 maps that can be automatically colored like charts.
You can use Power-user to create an agenda for your presentation. A table of contents page is automatically generated and updated by the program for you. Simply choose from the available presets what your agenda will look like.
Clean Menu is another excellent feature included with this add-in. Before sharing the presentations with others, it is intended to check your slides for consistency and faults. Multiple font combinations, missing slide numbers, private information on slide notes, double words and/or blank spaces, and empty placeholders are among the irregularities that the program will find and correct for you.
With Power-user, you can also quickly reposition, symmetrically arrange, equalize the height or width of selected forms, move them closer or farther apart, exchange positions, stack shapes, and more in your slide deck.
Cost: A free plan is available, but it has fewer features. Paid plans begin at 18.75 per month.
The PowerPlugs Ultimate Combo is a comprehensive PowerPoint multimedia enhancement suite created to help you take your presentations to the next level and improve their ability to impress your audience. It features 4 PowerPlugs add-ins, 21 full volumes of multimedia content and effects that enhance presentations, a large library of pre-made PPT templates, and an annual subscription.
You can choose from thousands of visually stunning charts and diagrams of various types and styles using the add-ins included in the suite. You can also insert animated and editable 3D character slides to make your presentations even more engaging and include multiple-choice question and answer slides in your slide deck.
Cost: $366
With the help of SlideHub, a comprehensive PowerPoint asset platform, you can seamlessly incorporate pre-made materials with PowerPoint slides, symbols, and photos from your business. You will have access to more than 3,000 motivational slides, including graphs, timelines, lists, data charts, organizational charts, tables, and others. Slides immediately change to match the company colors and template. The add-in also allows you to integrate free photos from Unsplash directly into PowerPoint and comes with 100,000 searchable icons in 10 different icon styles.
With SlideHub, you can access slides, photos, and icons in one convenient location rather than having to seek through several websites and sources. The add-in also provides analytics capabilities that enable you to monitor who is using particular company resources.
Cost: With a minimum of three active users, pricing starts at $14 per active user per month.
The ToolsToo Pro add-in was created to make PowerPoint presentations quicker and simpler for users. The PowerPoint ribbon gains access to more than 115 strong productivity tools that are very simple to use.
There are various kinds of tools. Slide tools can replicate agenda slides and display presentation progress, paste clipboard content as new slides and scale them to fit, split text into two slides, display word, character, and paragraph counts, track slide statistics, and predict presentation length, for example. Additionally, there are 90 tools that streamline work with shapes on the slides and help you quickly alter the size, spacing, format, font name, and rotation of the shapes.
You can create unique toolchains out of any arrangement of the tools for maximum productivity, and you can activate a toolchain with a single click when necessary.
Cost: $19.95
Conclusion
The next time you need to work on a presentation, give some of these PowerPoint add-ins a try. They're a fantastic method to increase productivity and transform ordinary presentations into visually spectacular information. To make the creation process simpler and your slides more beautiful, find your favorites and install them.
For more interesting and informative content, subscribe to our blog!