By Pooja Vinod Kumar on Aug 2, 2018 5:24:18 PM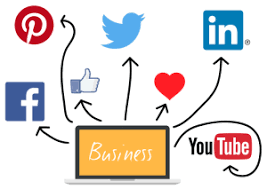 Social media is one of the best tools you can use to generate leads for your business. Many marketers have a perception that social media can only be used to create brand awareness. While this is true, social media can also be used to generate leads for your sales people to close them into customers. Leveraging social media to generate leads will allow your business to scale more than you can imagine.
Here are 5 methods to generate leads using social media:

1) Share valuable content offers and put up a form

While doing lead generation, use the help of social media to promote your content offer among the target audience by redirecting them to a landing page where they can fill out their information before gaining access to the content offer. This is a good strategy because a gated content will also provide you with more qualified leads. Those who are truly interested and understand the benefits and value of the content offer will be willing to spare a minute to fill up the form, qualifying themselves as more than readers who are not willing to do so. Examples of content offers include white papers, case studies and eBooks.
2) Use paid social media ads
With recent updates to many social networks' algorithms, advertising on social media platforms is becoming more important than ever. These social media platforms include Facebook, Instagram, LinkedIn, Twitter and many more. As a marketer, you should definitely take advantage of paid promotion or advertisements to supplement organic posts in order to get your posts seen. Each social platform has unique demographic criteria that allow you to target ads (e.g. location, job title, age, industry, gender, etc.). Leverage the right platform and targeting options to ensure you're going after the audience who will find value in your content so that you're not wasting paid resources on megaphoning.
While promoting your posts, always remember to include a strong call-to-action to get the best out of your investment and subsequently generate better conversions. Say, for example, you can ask followers to download an E-book, attend a webinar, or learn about new products.
3) Conduct polls and surveys
With the advent of experiential marketing and it becoming extremely popular, consumers are more keen towards brands that they can connect and engage with. Conducting polls and surveys are an excellent method.

You'll be to create effective lead generating content and also better cater to the needs of your audience by getting a first-hand interaction with your audience. Request an email address to see the survey results once it's completed to keep them engaged.
4) Use hashtags
Hashtags is an incredibly powerful tool that you mainly see on Instagram and Twitter posts. It is used mainly to broaden your targeted reach. Location-based and industry-specific hashtags are also great for reaching a larger local audience as well as users that are possibly already interested in the topic you're posting about.

This will greatly increase your chances of being found by relevant and qualified leads, which is why it's of the utmost importance to ensure your profile is all set to impress.
5) Host a live stream
Going live is a fantastic way to directly engage with your followers and update them in real-time. By gathering feedback, generating awareness and answering queries about your products/services, live chats will give you the chance to position your brand as an expert in the industry. Driving cross-channel traffic by directing participants towards quality content, landing pages, and latest offerings.
These are some methods you can use in order to generate leads using social media for your business. Trial and error is definitely a must in digital marketing and you need to constantly experiment to better understand what suits best for your business. You might need some time to see the results, but be patient and the reward will come eventually.