By Pooja Vinod Kumar on Jul 27, 2018 2:55:05 PM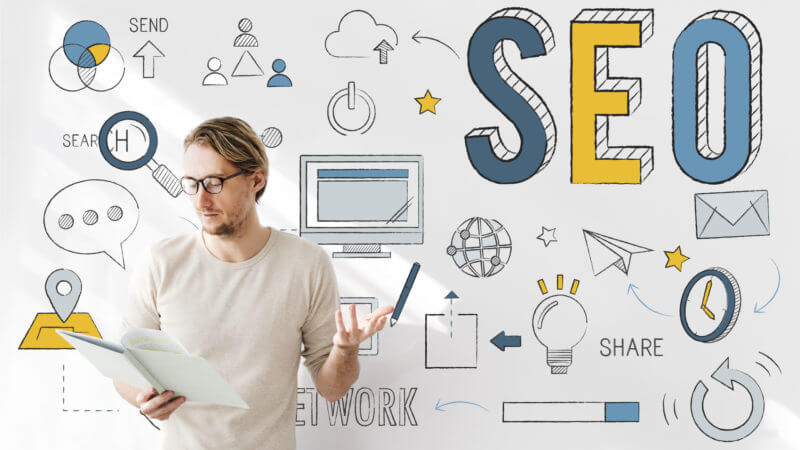 Most of us understand what Social Media marketing and Search Engine Optimisation (SEO) is all about. But, do you know how these two can work together to help grow your business?

Don't get me wrong – social media has no direct relationship on improving your website ranking! Some people think that because Google treats social media posts as individual web pages, SEO rules can be applied. However, Google doesn't like links to social media as they are too easy to manipulate. Therefore, although external links are one of the top-ranking factors of SEO, it doesn't help.

So, how can social media help to improve your SEO performance? Let's take a look at the four points listed below:

1. Social media channels to attract external links
Social media shares provide a direct linkage for people to read the content in your website, which is definitely SEO-based. While quality of content itself could have a huge impact on the bounce rate and time-on-site engagement, it implies that if your content is good and people decided to read through the paragraphs, rather than exit right away, this would reduce the bounce rate, increase time-on-site engagement, and these engagement statistics contribute a lot to search engines in prioritizing search results.

If it so happens that some influencers of the respective industry view your quality content (as they also use social media as much as anyone else) then, there is a high chance that your content will be linked to their blog post or other web pages. When such external links are developed by a highly influential person, not only can it drive more traffic to your website, but can also indirectly help with your SEO.

2. Social media to facilitate social listening

When it comes to SEO, you would have already thought of keywords to put in your website to improve performance. However, keywords are always useless if you do not do more research on understanding the user intent – their intention of using those keywords, such as whether to purchase, having a question in mind and trying to search for solutions, etc.

Social media can be a tool for you to reach out to and listen to your audience. Social listening is about searching on the internet, looking for public comments/perceptions about your business, your competitors and other areas of interest. The information you gain from user intended research can give you better insights on how to improve your content, how to fine-tune the keywords to be used, and how to better address the user's needs.

In this way, you can create a content marketing strategy that fits your target's needs, and this is also what search engines love to deliver to their users!

3. Social media can act as a simple yet effective measure of success

A lot of social media channels provide different parameters that can be a very good indicator of engagement metrics, such as the number of likes, shares, and comments per post on Facebook. We can then make sure of this to develop a better strategy to catch your audience's attention.

Analyze the number of "clicks" that your social media posts had, and figure out the common themes that the best-performing posts have, and why the audience liked it. Besides, also check the number of "shares". Content that gets a lot of "shares" means that your audience finds value from inside, so make sure to track which type of content, what kind of platform or context, can earn more organic "shares" so as to increase your visibility.

In one case study, a company had got over 130,000 Facebook shares to a web page in 2017 and eventually ranked #1 even in keyword phrases that were highly competitive. So, the number of "shares" does matter a lot!

4. Social media channels being shown on the result page of branded searches

Sometimes, you would see Twitter posts appearing on the search results. This is because Google has a partnership with Twitter. Having only these social posts seen on the search results page would not affect your SEO performance, but nevertheless still improves your brand awareness and authority.

When brand awareness is established, more people will start searching for your brand over time. An analysis on Fashion Nova has shown that they were able to grow from nothing to over 88,000 keywords (in SEMrush) in a year, just because of having lesser bounce rate than other sites. What has happened is that many visitors search for their brand together with an item, such as "Fashion Nova Jeans".

When more users search for it and have positive interactions with the site (i.e. low bounce rate), Google would understand about customer's needs, and would adjust the brand "Fashion Nova" to other non-branded keyword searches, so people would also see their brands even when they just search for "jeans" in Google.

Therefore, the more branded searches your brand receives, the higher your site is likely to rank for non-branded keywords, indirectly helping with your SEO!

Conclusion

After reading through all the points above, you can see that social media posts do not have any direct effect on your SEO ranking, however, the positive indirect effect will be reflected with time. Therefore, take advantage of social media to promote your creative and high-quality content, and also take advantage of Google's partnership with Twitter, so as to generate more organic search to your site, eventually enhancing your SEO!
Read more: Social Media Marketing to Grow your Business.
If you are interested in learning more about lead generation, feel free to download our FREE eBook, "The 30 Greatest Lead Generation Tips".