By Chong Wei Ling on Nov 11, 2020 9:00:00 AM
Starting up an online e-commerce website is easy, but getting customers to purchase is the hard part. What is the key to transform your business into a long-term revenue and stability?
Long-term customers. With customers that come back to your store regularly to buy, your business grows. Customer retention is important for the success of e-commerce businesses as it is being able to maintain a shopper as a customer for the long-term.
An ideal customer retention strategy will keep the same customers coming back to your shop again and again. This brand loyalty is what will separate your shop from the rest and propel your business towards long-term success.
5 Tips for Shopify Customer Retention:
1. Use Shopify Analytics to Better Understand Your Customers
By understanding the data and numbers, you can identify who are your customers and set measurable goals for long-term success. Shopify analytics offer you insights into your sales trends to let you analyse your data and adjust your strategies accordingly.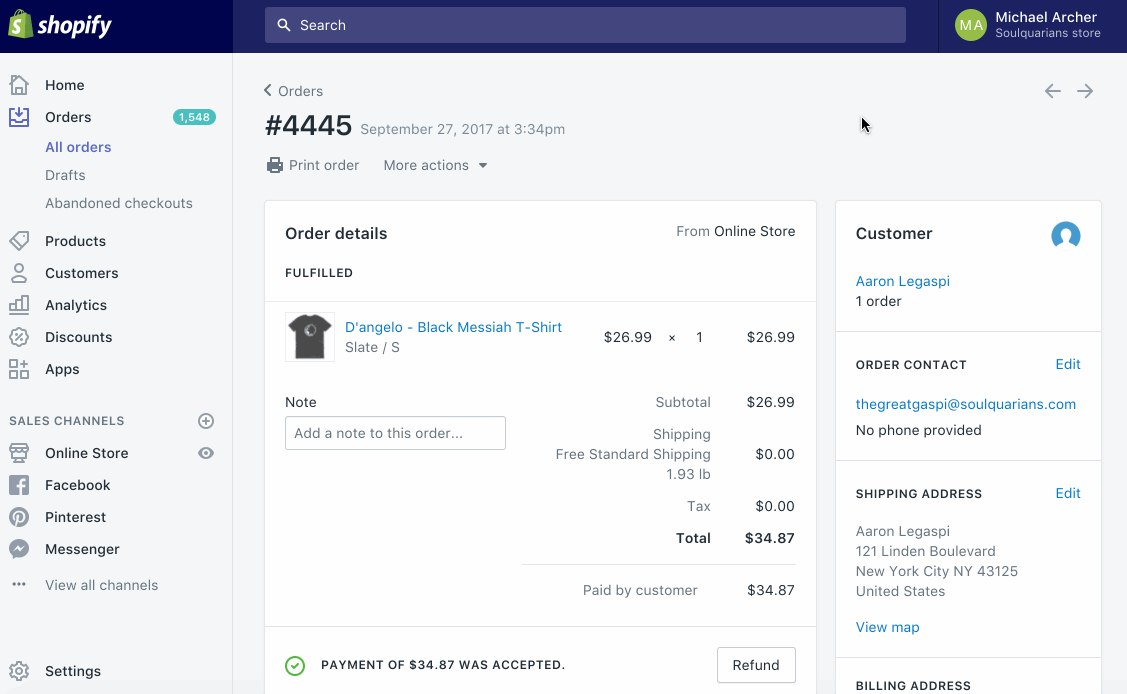 (Source: Shopify)
If you have a Shopify account beyond a basic membership, you can see your sales by customer name. This report can let you know who are your recurring customers and what items they are buying. Knowing what items customers check out in one order can help you increase average sales through recommended products and targeted advertising.
These numbers can also help you to find out which websites are driving traffic to your shop. This can help you find out more about your customers' interests and better market to them to get them to return to your shop.
2. Make Shopping Easy and Enjoyable
A pleasurable shopping experience encourages customers to return. Customers want to know that the products they're looking for will be easy to find, the pictures and descriptions will be clear and accurate, and the checkout process will be fast and easy.
Having a lenient return policy also helps to improve your customer retention. Better return policies helps with increased sales and less cart abandonment.
You can also improve your customer retention with a lenient return policy. Better return policies correlate to increased sales and less abandoned carts. Offering superior customer service not only builds your reputation, but it also encourages customers to return.
3. Help Customers Recover Their Shopify Abandoned Carts
Another effective way to turn shoppers into customers is through abandoned cart recovery. Shopify allows you to email users that ditch their carts and move on.
(Source: Shopify)
You can also use re-marketing to get customers to return to your shop if they've previously viewed from your shop.
4. Offer Exclusive Discounts to Existing Customers
Customer loyalty programs and offers are designed to reward repeating customers and bring them back to your online shop.
You can easily create a discount code for your loyal customers from your Shopify account and use these codes in your email marketing to reach out to your existing customer base. You can also include a free shipping code to get them to check out their cart.
5. Utilise your Social Media for Customer Retention
Loyal customers connect to stories and brand consistency. Utilizing your social media to remind existing customers of your brand can bring them back to your shop and through your checkout.
You can feature new products, highlight promotions and share your company's mission to capture the interest of your audience.
Integrate a link in bio or set up social media channels that connect your Instagram, Facebook, and Twitter directly to your Shopify store so that your followers will be able to see your presence on these channels. Engage with customers on your social media accounts, follow your customers back, reply to their comments to connect with your audience for a more personable touch!