By Veronica Fernandez on Sep 20, 2019 4:00:00 PM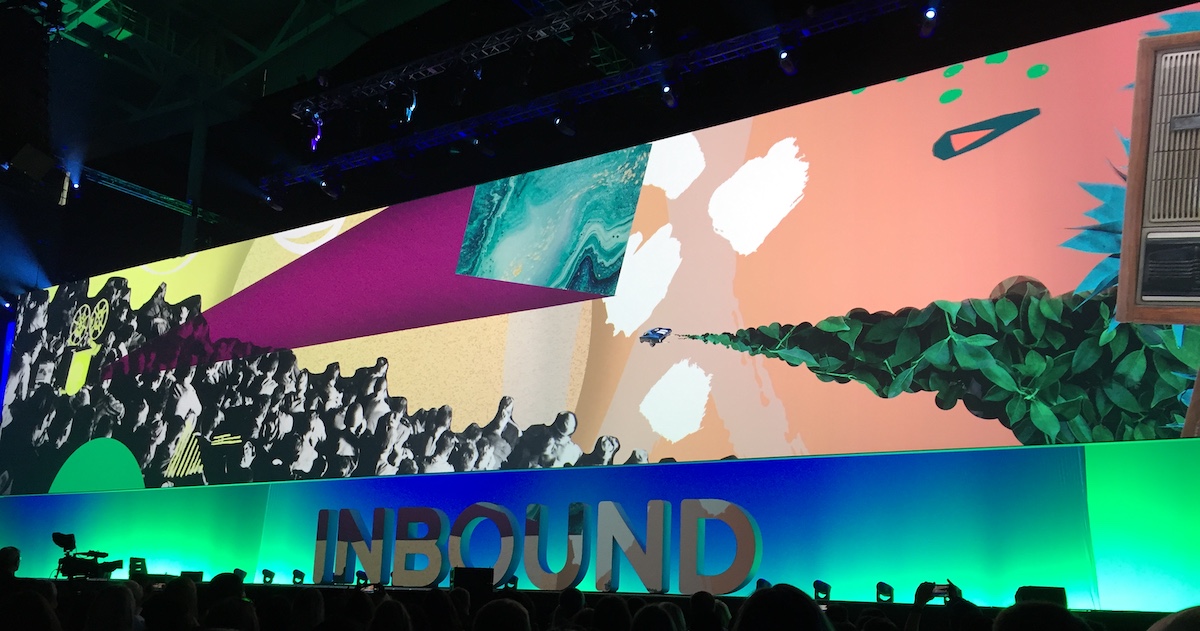 Source: The Weidert Group
As a partner working with HubSpot for more than 6 years and one of the pioneers of adopting HubSpot in Singapore, we're excited to share with you some of the key takeaways for HubSpot Inbound 2019.
What is Inbound 2019?
Inbound 2019 is an annual conference held by HubSpot at the Boston Exhibition and Convention Center. The annual conference has nearly doubled in growth since 2015, at a whopping 26,000 number of marketing and sales professionals participating this year. We were the first few to catch the latest updates from the marketing automation and CRM company. Here are some of our top takeaways from the event.
1. New Pricing Model for Sales Hub Professional and Marketing Hub Starter
With effect from 1 November 2019, customers using the Sales Hub Professional and Marketing Hub Starter will enjoy a full range of new features at exclusive prices.
What about current customers, you may ask? Well, for customers who purchased Marketing Hub Starter or Sales Hub Professional prior to November 1, 2019 will be given access to the new features as they are made available — without seeing a change in price. However, HubSpot does not intend to allow customers to add additional users ( for Sales Hub Professional) indefinitely at those same price points, and certain changes to your existing subscription could still prompt a change in price.
Marketing Hub Starter New Features:
Landing pages - A brand new drag-and-drop editor to create landing pages that look beautiful and are optimized for any device, now available in Marketing Hub Starter.
Form follow-up emails - Send up to three automated emails after form submissions to start nurturing and converting leads.
Marketing Hub Starter Pricing:
No change - $50 per month with 1K contacts included
Sales Hub Professional New Features:
Buy-now button - Create a call-to-action that directly connects a product in your product catalogue to an online purchase in Stripe. Stripe subscription required.
eSignature - Get digital signatures for quotes. No more printing and sending hard copies. eSignature is currently available as a feature in Sales Hub Enterprise. We'll be bringing it down to Sales Hub Professional with a limit of 10 signatures per paid user per month.
Calculated properties - Create fields that roll up data from other fields. Calculated properties is currently available as a feature in Sales Hub Enterprise. We'll be bringing it down to Sales Hub Professional with a limit of 5 calculated properties per portal.
Sales Hub Professional New Pricing:
$500 per month with 5 paid users included and $100 per month for each additional paid user.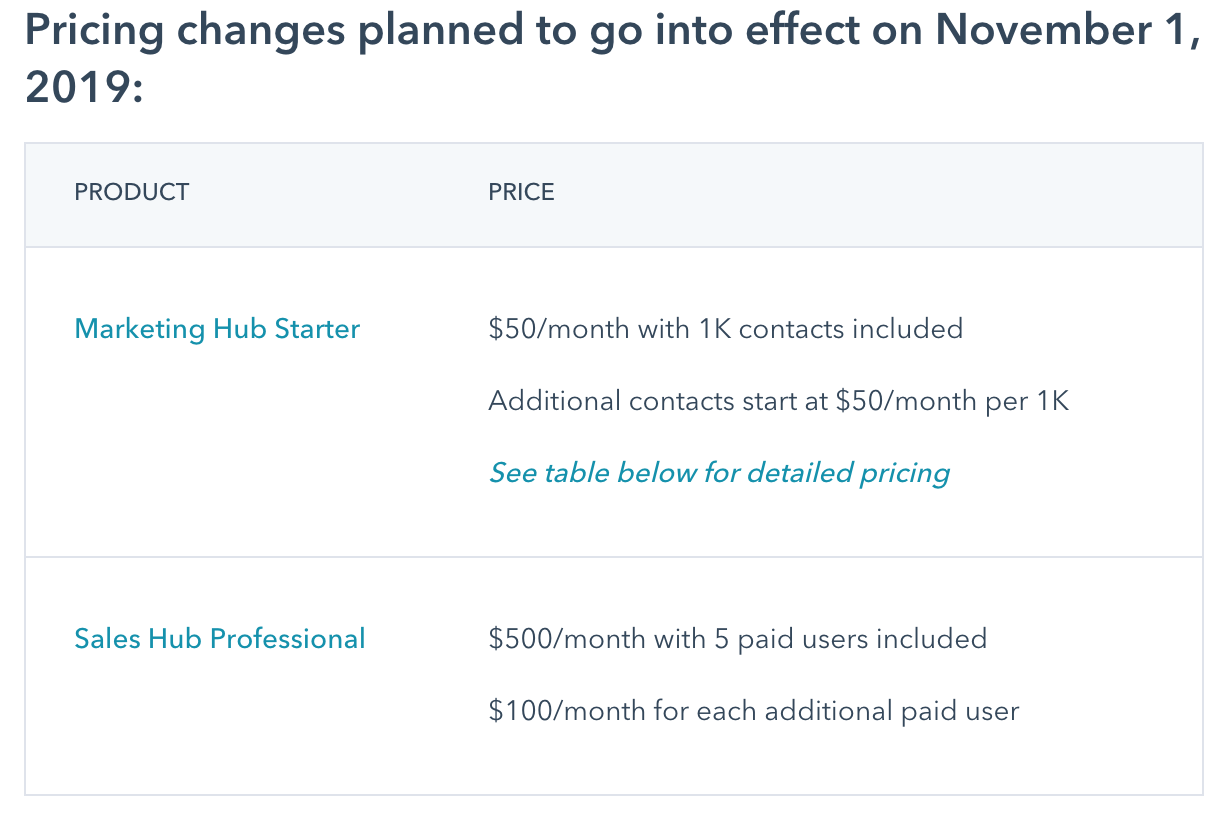 You can read more about the new pricing models here.
2. HubSpot Updates App Marketplace
One of the most exciting announcements in Inbound 2019 has to be the introduction of the new HubSpot App Marketplace. The newly redesigned platform will include access to third-party tools that HubSpot users can integrate with their accounts.
Key features of the redesign include:
More informed integration decisions. Through customer feedback, HubSpot has identified the details businesses need most when considering an integration, including pricing information, data flow structure, and demo videos. The company now requires all partners to provide that information to be listed, and the app listing pages themselves have been redesigned from the ground up to prioritize this information.
Easier discovery of relevant apps for HubSpot users. With hand-curated selections of apps for different types of users and businesses and improved filtering, a more robust search makes it easy to find the right app for every team and purpose.
Decreased friction and improved discoverability for app developers. The new self-service app listing experience gives app creators a simple, streamlined way to create and manage their marketplace listings.
3. HubSpot Expands Functionality of its Growth Platform
HubSpot released updates to its Growth Platform, a cloud-based marketing, sales and customer service software platform. Here are the latest updates:
Reduce friction in the customer experience - Did you know that the amount of time spent on managing data can go up to an hour per day? HubSpot created a new duplicate management tool that uses machine learning to find and merge duplicate contact or company data. Duplicate data leads to inefficiencies, both internally and for the end customer as they receive multiple marketing emails or hear from multiple reps.
Provide more functionality, for less - HubSpot has improved usability across multiple product features, including unified thread views, ticket kickback emails, support forms in the Conversations inbox, and more. Here are some things to look forward to:

Free Facebook Messenger integration with HubSpot's Conversations inbox
Free email and advertising tools on the HubSpot CRM
Free business card scanner through the HubSpot mobile app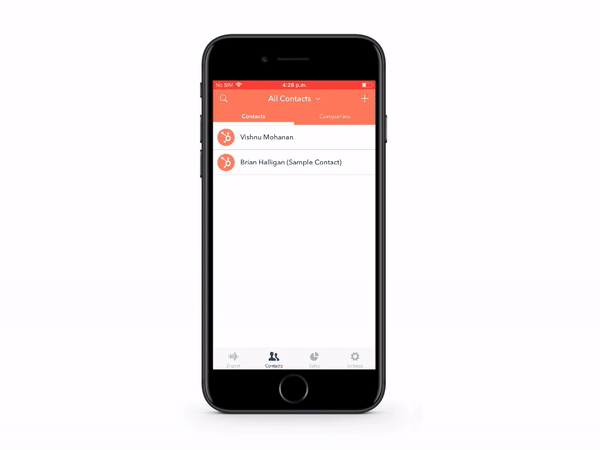 Source: HubSpot
There are so many new cool features that HubSpot will be introducing that it can be difficult to manage. But don't worry, we're here to help! As a certified partner for over 6 years, we're confident in implementing HubSpot for businesses in Singapore and Asia.