Infusionsoft by Keap is the World's #1 all-in-one CRM, sales and marketing automation platform for growing businesses.
In Asia, especially in Singapore, most of the businesses are small-and-medium-sized enterprises (SMEs), Infusionsoft by Keap is an ideal software for you.
Infusionsoft by Keap is designed specifically to help you manage and grow your business more efficiently. By automating your sales and marketing processes, it aims to create meaningful relationships at every stage of the customer journey.
With an in-built CRM system, Infusionsoft by Keap allows for seamless data management where all your leads and customer information are kept in one place. This enables you to keep track of all your conversations and records in Singapore and Asia.
With a better organisation of information, you can focus your efforts on growing your business and delivering great service.

This creates an alignment between your sales and marketing teams, enabling them to deliver the right messaging to the right people at the right time.
Infusionsoft for Marketing Teams in Singapore and Asia
Infusionsoft by Keap marketing automation also enables you to create repeatable processes that move your leads from one stage to another.
Build lead-nurturing workflows using Infusionsoft Campaign Builder to customise the buyer's journey for your sales leads.
Create a sequence of emails that get sent based on timed triggers or customer actions such as downloading your content.
Infusionsoft Campaign Builder offers an elegant and quick drag-and-drop interface which allows you to build complex marketing workflows in a matter of minutes. You can create an unlimited number of campaigns. In addition, there are no limits to the number of emails sent.
Not good at designing landing pages or emails?
Infusionsoft by Keap comes preloaded with an extensive library of flexible, functional templates, all of which are customisable. Find what you like and get started, the design work is done.

---
Infusionsoft for Sales Teams in Singapore and Asia
Infusionsoft's Sales Pipeline Management allows you to manage opportunities and sales cycles. Spend less time on copying and pasting messages, manually following up with leads and customers, and more time meeting and serving your customers.
You can create automated tasks, reminders, appointments and follow up with your leads. Combining this with behavioural lead scoring ensures that your sales teams are always working on the hottest leads, allowing for your marketing automation to nurture the rest. With a more systematic and structured sales pipeline, your sales teams can work towards a more predictable conversion.

---
Why Should I Use Infusionsoft in Singapore and Asia?
Infusionsoft by Keap is more than just a CRM and Marketing Automation Tool. It is an integrated solution which enables you to capture your leads, engage, convert and delight your customers throughout the buyer's journey in Singapore and Asia.
Its CRM allows marketers to collect data to build successful marketing campaigns.
With marketing automation, you can create repeatable processes that deliver personalised content to meet the unique needs of a customer at any point of the buyer's journey.
Infusionsoft by Keap empowers your sales teams with behavioural lead scoring and visible contact information to increase the opportunity of a conversion.
Check out the benefits of using Infusionsoft by Keap.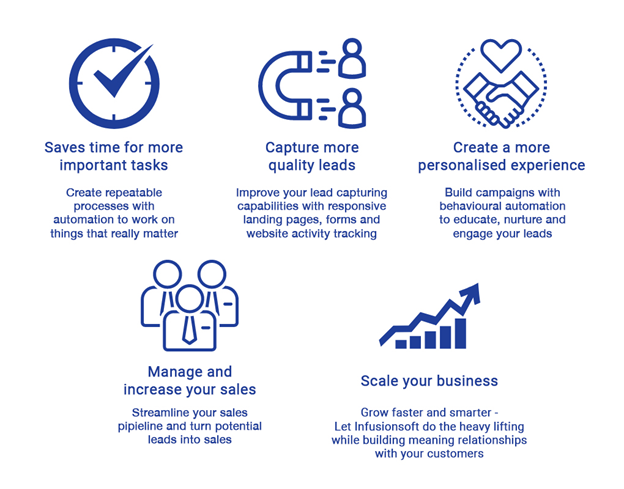 Infusionsoft by Keap is specifically designed to provide growing businesses with the ability to utilise powerful tools and strategies to manage your business and grow your sales.
As an Infusionsoft Certified Partner, we will provide you with all the help you need to successfully implement Infusionsoft and start growing your business today.