By Veronica Fernandez on Aug 20, 2019 4:00:00 PM
The long National Day/ Hari Raya Haji holiday was the best opportunity for local and global brands to involve themselves in the celebration and boost sales. Yet when it comes to developing a marketing strategy around the longest weekend of 2019, it is a challenge to keep your ideas fresh and classy.
If you missed the opportunity to launch a campaign this year, it's not too early to start planning your next – for we have put together a list of National Day 2019 marketing tips to boost sales in Singapore. Read on to discover how brands have done it this year for you to grow your business in 2020.

1. Drinks - Tiger Beer
Source: TigerBeerSG on YouTube
Tiger Beer's campaign called 'The Day Before', which seeks to pay homage to the hard work and struggle that made Singapore's National Day possible.
The campaign features the struggles of several Singaporeans like the Michelin-starred Keng Eng Kee Seafood's Paul and Wayne Liew; design retailer Naiise founder Dennis Tay; Hokkien opera singer Lee Ah Lek, pop-rock band TKB, and fashion designer Amos Ananda Yeo.
Speaking about the campaign Asia-Pacific Breweries marketing director Faye Wee said: "Born and brewed in Singapore, it is in Tiger's DNA to champion local talents and celebrate what it means to be Singaporeans. By highlighting the momentous journey of each unique homegrown talent, we want to jolt Singaporeans into realising the significance of National Day by remembering the journey that brought us to our big day. Whether as a local brand or a nation, we are where we are today is because we pushed against the limits to unlock possibilities and uncage potential. It is this journey and the unwavering spirit of Singaporeans that got us here today and will drive us forward tomorrow."
This heartwarming video garnered more than 7,000 views to date, and has certainly increased the overall brand awareness of Tiger Beer in Singapore.
2. Restaurants - Passion Group

It's not a National Day promotion if there isn't a deal that pays tribute to Singapore's age. How can we ever miss the '54% discount' campaign?
Passion Group's Fu Lin Men was one of the restaurants that had this promotion. Claiming their signature Superior Soya Sauce Marinated Chicken as the best in Singapore and JB (... and some say Batam?), this is one promotion that has excited many - fans and new visitors alike.
You can check them out on TripAdvisor and book your table while the promotion is still on.
3. Fast Food Restaurants - Burger King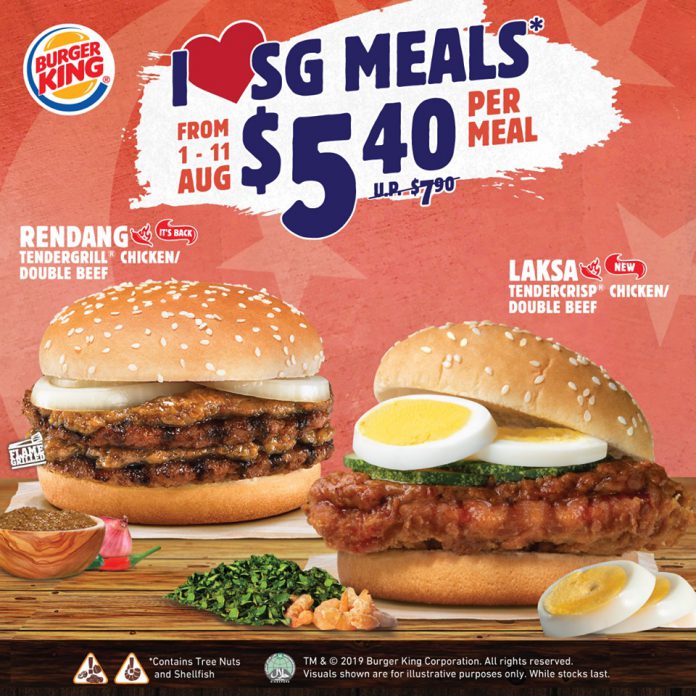 While we're on the topic of food and campaigns, it's always important to localise, localise, and localise. Burger King in Singapore has definitely nailed localisation for us. Bridging the gap between Asian and Western cuisine, Burger King launched two burgers with a Singaporean twist - the Rendang and Laksa burger.
Burger King says the Double Beef Burger consists of "two delectable layers of 100% beef patties, spread with two layers of wholesome Laksa sauce cooked with dried shrimp", hard-boiled eggs and sliced cucumbers between buns sprinkled with sesame seeds, while the chicken version consists of a fried chicken patty with laksa sauce, hard-boiled eggs, cucumbers and sesame seed buns. For the Rendang Beef Burger, 2019 is its comeback year. It has two beef patties with with Rendang sauce and fresh onions in sesame seed buns, with a chicken version also optional.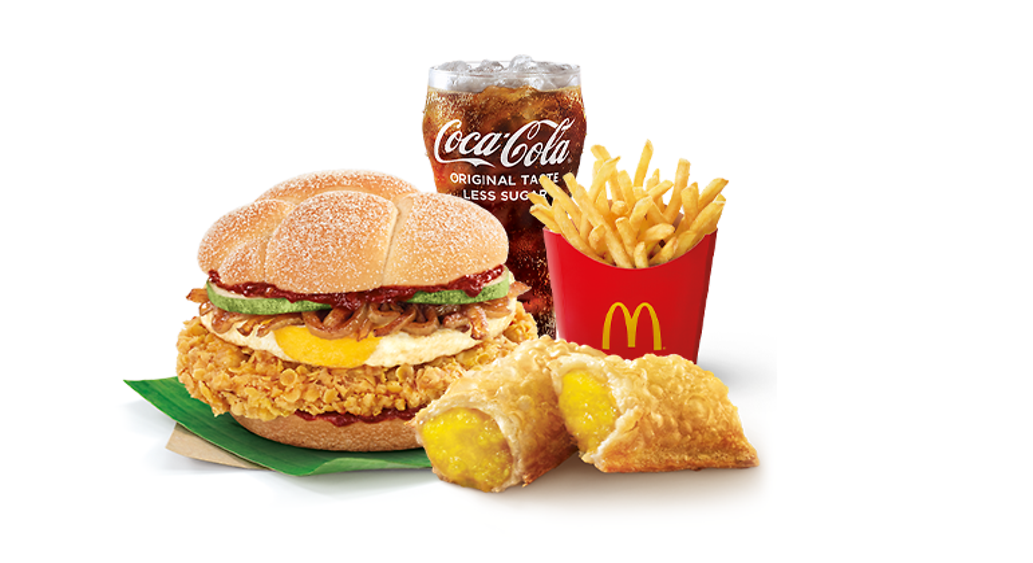 Which reminds us that once upon a time McDonald's had a Nasi Lemak burger, which was also launched as part of the National Day celebrations in 2017. The response was so good that they brought it back for this year's Ramadan.
4. Hospitality - The Fullerton Hotel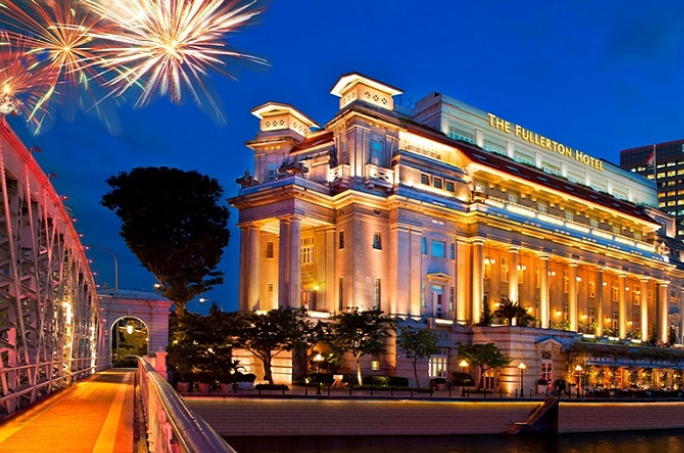 National Day has always been about the annual National Day Parade (NDP). With the long weekend, Singaporeans will grab the chance to temporarily leave the comfort of their homes for a short staycation. The best place to do that will be at hotels with the best view to catch the NDP 2019 fireworks. In fact, hotels like The Fullerton Hotel has created their own special packages for people who want to book a hotel room to watch the fireworks.
5. eCommerce - ShopBack
This National Day, ShopBack played a little game with their users that required them to be quick and lose a few hours of sleep. There were 4 tiers of goodies given out including a 20% hourly cashback, 46% Irvins flash deals and coupons. It was a fast and furious dash, but the savings bagged will make it worth the while.
Tier 1: 20% Hourly Cashback for 12 stores
This was exactly why I mentioned about losing sleep - exclusive hourly cashback deals. The first cashback of the hour starts at 12AM and ends at 9PM. Brands from Lazada, Qoo10 and Shopee to HP, Charles & Keith, and Traveloka, have all participated in this exciting deal.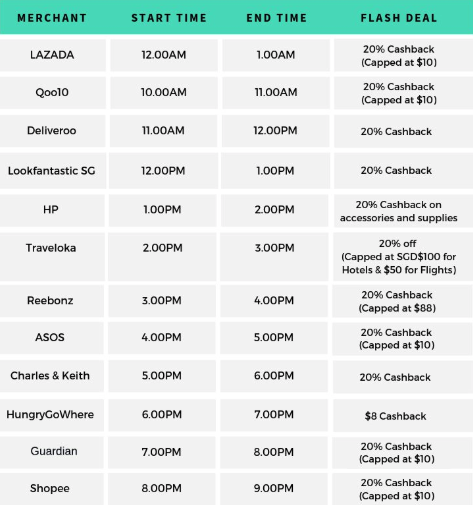 Look at the extensive list of brands that took part in this
Tier 2: Up to 60% GST cashback at 20+ online stores
ShopBack gave a cashback of at least 9% to an epic 60% on purchases for a limited time period. This special GST cashback is applicable for purchases on over 20 stores such as ZALORA, Lenovo and Deliveroo.
Tier 3: Flash deals like Irvins Salted Egg Crunchyroll for $5.40
To celebrate the nation turning 54, ShopBack let users buy Irvins Salted Egg Crunchyroll at nearly half its usual price at $5.40 (U.P. $10) from 8th to 10th August. This deal definitely caught the eye of many as it was the hype for this year's Chinese New Year snack craze.
Tier 4: Grab coupons to offset your ERP
Instead of planning your outings around the dreaded ERP, ShopBack offered dollar value store coupons to offset ERP charges on the app or website. Besides ERP coupons, there were also Deliveroo, Vaniday, KKday and ShopBack coupons to be claimed at mystery timings. They've alerted users when these exclusive deals are unveiled via ShopBack app's notification system, Telegram channel and Instagram. Talking about audience engagement!
6. Transport - Grab
The number one rule for every business is to always put your customers first. For that, Grab did a good job in thinking for their customers.
Since the NDP was held at the iconic Padang, there were many roadblocks implemented in order to facilitate the event flow and safety of all participants. Travelling from one destination to another could be seen as trouble especially if you're not familiar with the change in route. What's even more troublesome is if you're travelling in a big group, traffic becomes abnormally congested on both the trains and roads. Grab has just the solution for that.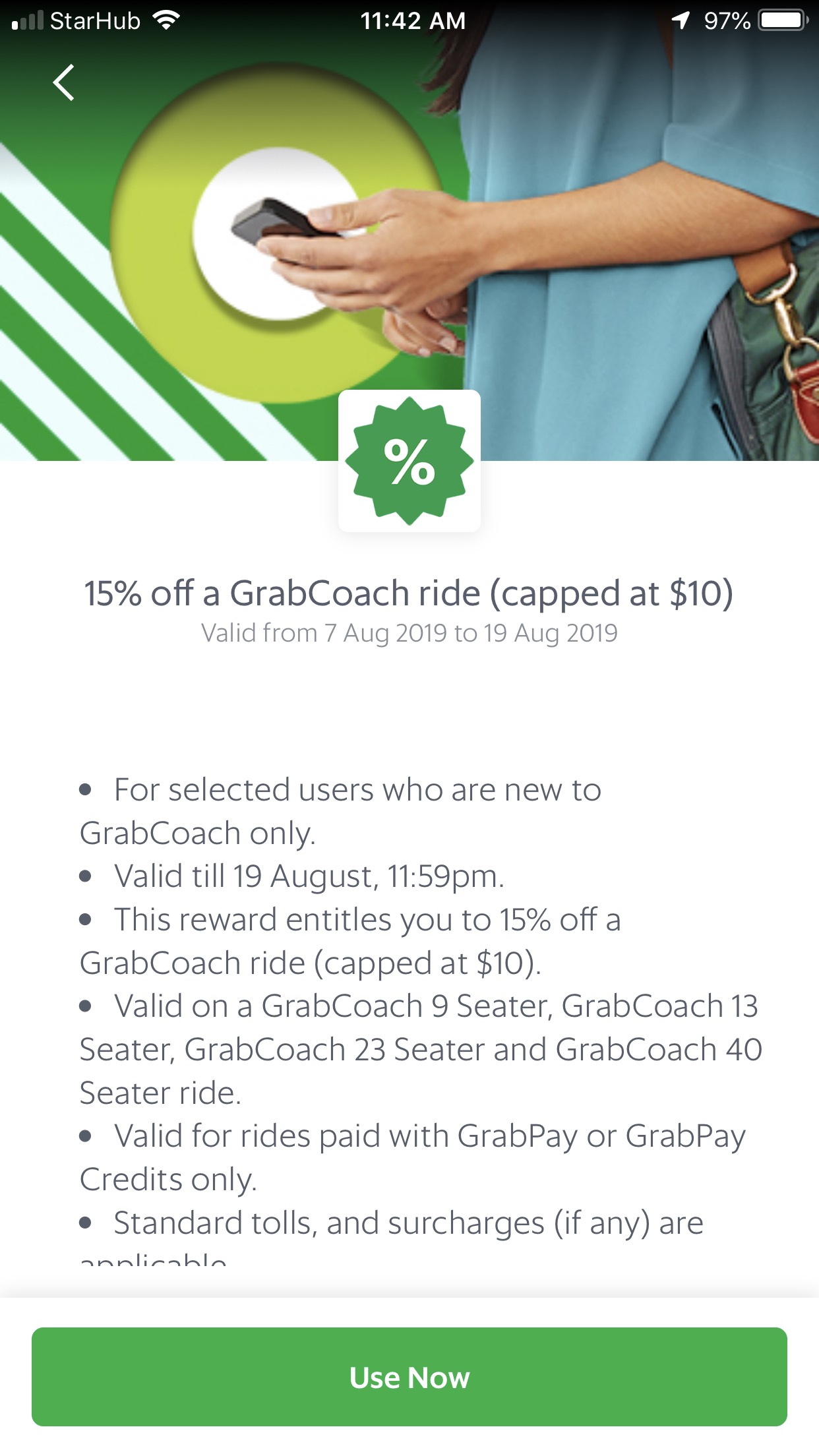 Introducing a 15% off from GrabCoach rides, big groups will be able to move around the country with a peace of mind. Not only is carpooling a great way to save money, it's also a lot more environmentally friendly as it'll reduce carbon footprint as there are lesser individual cars on the road. Plus, lesser cars on the road also means less traffic altogether.
These are our favourite marketing campaigns that we've seen during the long weekend. Is there anything else that we've missed? Let us know all about it in the comments section below.